Never Bored With Bordeaux

By
.(JavaScript must be enabled to view this email address)
Wednesday - August 08, 2007
|
Share

Del.icio.us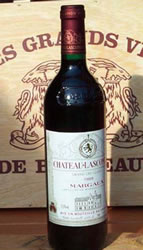 Clean, ripe, lots of black fruits
This past weekend I had the privilege of attending a fabulous tasting of Bordeaux ranging in vintages from 2001 back to 1964. It was a chance in a lifetime to taste so many great wines at one tasting. I was overwhelmed by the selection, more than 60 in all (not to mention the dozen or so non-Bordeaux wines). The theme of the tasting was arranged around the First Growths of Bordeaux (Chateaux Lafite-Rothschild, Latour, Mouton-Rothschild, Margaux and Haut Brion), but also included many "Super Seconds" and the luminaries of the Right Bank (Chateaux Cheval Blanc, Ausone, Le Pin and Petrus). So this was not a tasting for the uninitiated and I diligently tasted every single bottle.
There were many stars of the tasting - 1990 and 1995 Lafite, 1982 Leoville Las Cases and 1996 Leoville Barton shone brightly as expected. These are great wines from classic vintages. But after looking at my notes and my overall impression, what was more interesting was that there were some wines from unheralded vintages that were every bit as enjoyable as the wines that were expected to outshine everything else. To start, many of the wines from the 1986 vintage, Cos d'Estournel, Leoville Las Cases, Lafite and Pichon Lalande to be more specific, were showing really well - 1986 was, by most accounts, not a stellar vintage, yet these wines at 21 years of age (just legal to drink or to be drunk anyway) showed exceptional maturity and complexity. Several of them are at their peak with Lafite still developing nicely at the top of the heap. Pichon Lalande was typically elegant and flowery with Cos d'Estournel being plump and ready. Leoville Las Cases was very nice and a cut above the other two "Super Seconds."
Another observation was the exceptional quality of the wines from the Right Bank (St. Emilion and Pomerol), especially those from the 1998 Vintage. 1998 has almost been a forgotten vintage because it was very difficult in the more famous Medoc. But across the river 1998 was excellent as the wines proved. The 1998 Angelus had a voluptuous texture and complexity of fruit to rival any. The 1998 Clinet was warm and inviting, very ripe and sleek. Even beyond these I truly enjoyed the 1980 and 1986 Petrus because they showed real class and seduction in mediocre vintages. The 1995 Lafleur was another favorite because of its violet, jasmine flowery nuance and silky texture. The 2001 Valandraud was wonderfully polished and ripe, but not as ripe and overt as the 2001 La Mondotte, which was captivating for its fruitiness and ripeness, although not my style.
Some wines from so-called "bad" vintages really surprised me because of their level of pleasure and maturity: 1971 Mouton Rothschild was completely mature and refreshing at 35 years old; 1987 Lafite Rothschild will not reach higher heights than it is at now, and is a pleasing drink; 1992 Haut Brion was very nice for early drinking with soft tannin fruit to balance; the 1992 Lafite was very elegant and is at its peak, and 1997 Cheval Blanc was really easy to drink, light and smooth.
In the end what impressed me most was the level of generosity and passion shared by all those gathered for the tasting. It was great to see such exuberance at the highest level without any of the associated pomp and circumstance associated with such wine tastings. Shorts and T-shirt and barefoot was the uniform. All I saw was a ton of smiling faces, stained teeth and empty bottles of great wine. My most sincere thanks to all who attended and especially my hosts. Cheers!
Bordeaux for Bordeaux Lovers: 2004 Chateau Lascombes, Margaux $55. Clean and ripe with plenty of black fruit and depth, polished mouth feel and lingering finish. Lovely.
1998 Chateau Nenin, Pomerol $79. Silky and elegant, something you want to keep in your mouth and swish around before you swallow copious amounts of it. Delicious!
Roberto Viernes is a master sommelier. E-mail
.(JavaScript must be enabled to view this email address)
Most Recent Comment(s):