Popular, Powerful California Cabernet

By
.(JavaScript must be enabled to view this email address)
Wednesday - November 18, 2009
|
Share

Del.icio.us
California Cabernets are still some of the most popular and powerful wines on the market. They may not be selling as quickly as they used to, but there is no shortage of great California Cabernets being produced at the mid- to high range.
I recently went to a tasting where there were several terrific new Cabernets that really impressed me, and I'm sure they will impress you.
The first are actually a stunning trio from superstar winemaker Luc Morlet. His winemaking skills behind the label of Peter Michael are legendary, and now he is using his talents under his own label, Morlet Family Vineyards. These extremely limited wines are nothing short of show-stopping. Each comes from a different vineyard, none of which breaches the 175 case mark. These are truly handcrafted wines. One is called Coeur de Vallee ($150), which comes from the famed Beckstoffer To-Kalon Vineyard and is a blend of 76 percent Cabernet Sauvignon and 24 percent Cabernet Franc. The 2007 has a telltale note of unbelievably sweet blueberry, almost anise-like fruit with a hint of sweet pipe tobacco and baking spices. It is gushing with fruit on the palate and awesomely round. It sits on your palate like Jaba the Hut but caresses it like Princess Leah - an absolutely gorgeous texture.
The second is called Mon Cheval ($139), which comes from Knight's Valley and includes all five Bordeaux varieties with Cabernet Sauvignon being the largest in proportion at 86 percent. This wine is more elegant, yet, to me, earthier. It has a scent of wet rock along with huge vanilla notes wrapped with deep cassis, black plums and toast. Do not let the relative elegance in this description fool you for it being soft. Wimpy it is not.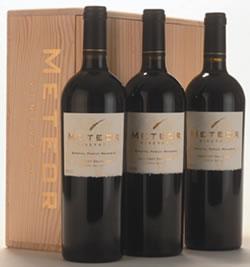 'Cult' wine in the making
The last is called "Passionnement"($199), which comes from a single vineyard on the Oakville bench in Napa Valley and is pure Cabernet Sauvignon. This may be the deepest of the three in terms of flavor and length. It's like a well of endless flavor. Every time you send the bucket down, you come up with a new flavor and bucket loads! Sweet black plum compote, hints of savory herbs, thick yet ripe tannins and a finish of pure dark cocoa. These are not inexpensive, but they are hugely collectible and reference standard.
Next is a "cult wine" in the making. Meteor Vineyard is a new project from an exceptional vineyard in Coombsville. It was purchased by Barry and Tracy Schuler, who had it planted to three different clones of Cabernet Sauvignon. The soils of this vineyard are a unique combination of warm volcanic soils overlaying a bed of water-worn stones. The wines are made by Napa Valley fixtures Dawnine and Bill Dyer, and boy, do they have a touch with these remarkable wines. The 2006 Meteor Vineyard Estate Cabernet Sauvignon ($225) explodes from the glass with atomic particles of warm black fruits, sweet Spanish cedar, vanillin and river rocks. It feels as if it inflates in your mouth as you taste it. Waves of blackberry, blueberry, licorice and toasted nuts wash over your palate. It has terrific depth and concentration and will certainly age easily for a decade and more. The 2006 Meteor Special Family Reserve ($260) is another step in intensity. There are chocolate, black dates and cassis through the palate. It is wildly complex, but still a baby. Only 75 cases of this stunning - and I do mean stunning - wine have been made.
Obviously these are not your everyday drinkers. They are truly special wines to be coveted and cherished. They command your attention and will leave your palate in a state of Cabernet bliss.
Roberto Viernes is a master sommelier. E-mail
.(JavaScript must be enabled to view this email address)
Most Recent Comment(s):