Provence in a glass

By
.(JavaScript must be enabled to view this email address)
Wednesday - February 09, 2011
|
Share

Del.icio.us
If you are a wine lover, you more than likely read quite a bit about wine, including this column (thank you).
I have been asked countless times what books I would recommend for wine enthusiasts.
Here is a non-exhaustive list of some of my favorites. Some I prefer because they are easy to read, and some are simply interesting, even inspiring. I hope you enjoy them as much as I do.
One of the first books I ever read on wine was Adventures on the Wine Route by Kermit Lynch. This book instills the romance and thrill of discovering great wines in any reader's imagination. It is a true look into the cellars of vignerons who are more a part of the earth and vine than celebrity and points. I admire Lynch for his perseverance and his tremendous palate. In fact, I admit that he is one of my wine "heroes." This book inspires me to search and write.
A recent book I've found to be quite evocative is Reading Between the Wines by Terry Theise. I don't agree with everything he writes and I certainly don't put as much "spiritual" value in wine as he does, but his prose is amazing and his practicality of what wine brings to a culture and why wine is important is nothing less than convincing. He expresses better than anyone else I have read exactly why wine has a sense of place and why it is important. It is witty and entertaining, even touching in many instances.
For those who enjoy the drama of personalities within the wine industry, especially of the "wine elite," Billionaire's Vinegar: The Mystery of the World's Most Expensive Bottle of Wine by Benjamin Wallace is a must-read. This complex tale of how the most famous and expensive bottles of wine were counterfeited and sold through and to some of the most discerning wine collectors and experts in the world is written in a mystery-like fashion. What is more interesting than that it happened at all is the motivation of each of the players involved in the game.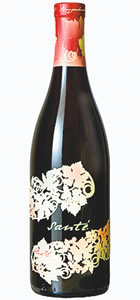 Really good value for a California Pinot Noir
One of my all-time favorites, which I cite to almost anyone who visits France with me, is Wine and War: The French, the Nazis and the Battle for France's Greatest Treasure by Donald and Petie Kladstrup. As the title suggests, this is an account of many of the events that unfolded during World War II in France. The struggle for the French vigneron against the Nazi invasion and occupation to protect their vinous heritage and product are brought to life through the pages. The recounting of the people who lived through it is emotional. It gives the reader the sense of how important wine is to the people.
For any budding wine geek, Oz Clarke's New Essential Wine Book is terrific. This is filled with wonderful, essential information and it is written in a form that is simple to read and easy to understand. It's not an encyclopedic dive into minutiae, but it gives enough meat for one to chew on when learning about wine regions and the wines they produce.
Wine Recommendations: 2007 Domaine Tempier Bandol Rouge ($49). If you want to taste what Provence is in a glass, this is it. Herbs, cassis, cooked game and lardons: It's all there. Yummy! 2009 Votre Sante Pinot Noir ($15) Made by Coppola Winery, this Pinot Noir has some really pretty juicy fruit with a soft texture and pleasant after-taste. A really good value for California Pinot Noir.
Roberto Viernes is a master sommelier. E-mail
.(JavaScript must be enabled to view this email address)
Most Recent Comment(s):