Sipping, Selecting And Shipping

By
.(JavaScript must be enabled to view this email address)
Wednesday - August 29, 2007
|
Share

Del.icio.us
Have you ever wondered how wine actually gets to the store shelves that you peruse every month? People don't often think about this process, but it is actually enlightening and helpful for everyone who drinks wine to understand. It answers many of the questions that consumer have. "Why can't I find the same wine I drank in Italy anywhere?" Or "why doesn't everyone carry the same wines?"

A Zinfandel bursting with fruit
First off, the wine has to be tasted by someone. Sometimes a producer may send samples to whoever makes the decision to import it, or that person goes to the producer to check out their wines. Be it an importer, consumer or distributor, someone has to taste the wine and say, "this tastes great and I think it can be sold for the price that the producer is asking us to pay." Easy so far, right? OK, if it's an importer who wants to bring it in to the U.S., they have to take care of all the logistics of going through label approval, picking up the product, consolidating it all in containers and having them shipped. Now there are tons of variables to think about from minimum case quantities to how to ship - air or boat, refrigerated or not, etc. In some cases this can be as far as Austria or as close as California. Legally a distributor or a consumer can't do this alone. They would still have to get an importer to do all this business just to get the wine into the States.
Now hopefully the wine has made it into the U.S. in good condition, uncooked and just the way it was originally tasted, undamaged from shipping. Now if a distributor in Hawaii orders some, they have to do the same thing again, except for the most part the wine is ordered from the Mainland instead of overseas. Well, then again, anything coming to Hawaii is "overseas."
Once on our shores the wine has to be kept in good condition i.e. temperature controlled in order for the wine to be preserved properly. Distributors spend lots of money on building warehouses space and all the electricity that keeps the wines cool. The distributor will take samples of these wines and taste them with the buyers of local restaurants, hotels and retail shops. They either hold big tastings where everyone is invited or go from door to door sampling the wines. Can you believe that many of the buyers don't go to these free samplings just because they're too busy? Who would miss a shot at tasting the best and newest wines for free?
Here is where each buyer's palate comes into play. Each person decides exactly which wine they want to carry in their cellars or on their shelves. Many buyers use their palates to figure out what they think their customers would like. Others use ratings and wine critics to make their decisions. And many more use both.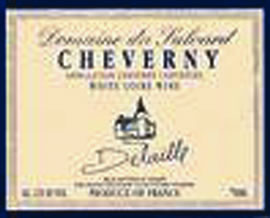 A delightful Sauvignon Blanc
Finally on the shelves and wine lists, you get a chance to see exactly what the buyers' palates and programs are about. Are they BIG points fans or do they go for wines that go best with foods? Are they name recognition buyers or are they seeking things that are off the beaten path? Most are a combination of all the above, but then there are a few who just aren't really very motivated to make better selections. These types of places ultimately don't make money from their wine programs because they don't make us consumers very happy with their selections. And that's when we go spend our money elsewhere.
So now you know how the decisions are made and how the wines get to you. And if you would like to order some special wines through your retailer, you will appreciate how hard it is to actually get it to you. If you make friends with the people behind the counter, you are more apt to get exactly what you're looking for.
Wines that made it: 2006 Salvard Cheverny $13. I can't find a better Sauvignon Blanc for the money. It's delightfully refreshing and so easy to drink. 2005 Four Vines Old Vine Cuvee Zinfandel $15. I don't usually drink Zinfandel, but this one is a drinker. It bursts with juicy fruit and balanced enough to go with a meal.
Roberto Viernes is a master sommelier. E-mail
.(JavaScript must be enabled to view this email address)
Most Recent Comment(s):