The Exclusive Flavors Of Old Wines

By
.(JavaScript must be enabled to view this email address)
Wednesday - January 28, 2009
|
Share

Del.icio.us
I love to drink old wines because they are no longer just the flavor of fruit.
When wines are released, they taste mostly of fruit. As wines age, they show more nuances and complexities. Some call it vinosity, secondary and tertiary characteristics in a wine. These include ineffable flavors no winemaker can simulate - flavors only time can reveal. They remind me of truffles, earth, stone, leather, dried spices, teas, mocha, coffee, chocolate, wilted flowers, mushrooms and a forest floor. These flavors need time to evolve as the components of fruit, earth and wood romance each other into a harmonious union.
This doesn't come easily, mind you. Behind all the fruit and structure (tannin, acidity and alcohol) there must be something that allows the wine to shine in its ripe, old age. Most winemakers will tell you it is the terroir - the all-encompassing philosophy that the earth from which it is born is amplified in a great wine.
I would tend to agree. And I love to smell and taste that amplification of a wine's terroir. When you can taste the wine in its honesty, and where it comes from, it is one of the joys wine offers above any other beverage. It is an experience I have had many times before, and yet still too seldom.
In addition, wines that show only huge proportions of gushing ripe fruit are not my cup of tea.
That type of wine is simplistic to me, both in its flavor and in its making. It may be a simplistic view, but all one needs to have a super-ripe wine are super-ripe grapes and a winemaker that does-n't screw it up.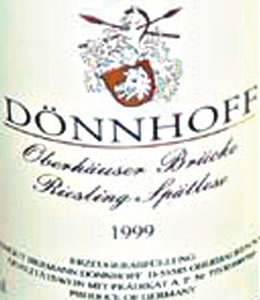 Stunning intensity and minerality
I also love to see the resiliency of wine against time. I would like to see myself as a great bottle of aged wine defying time, aging gracefully, still pleasing and satisfying. I think of the wine's complexity as if it was wisdom in a person. If a wine is quite old, 60 years or older, I also often wonder how it was made. Without today's technology and techniques, some of these wines, I'm sure, had some good fortune as well as good winemakers. I wonder if the winemakers of the past intended their wines to last this long, and do winemakers today see their wines lasting that long?
Another reason why I like "old" wines is for their rarity. As a friend likes to say, "They don't make them that old anymore." As the bottles are drunk up they become notes and memories, wonderful experiences only a few get the chance to enjoy. Sure, it is exclusive. There is a price for the exclusivity and rarity. And there are those who are willing to pay for it.
Many winemakers say they release their wines to market when they are ready. But to me, they are usually far from being "ready." It is said that patience is a virtue.
Wines to hold: 2005 Domaine Tempier Bandol Rouge ($45) If you like deeply rich and gutsy red wines with earthy tones and spices, this is a wine you will love. It is decadent now and will be even more thrilling in a decade or more.
2006 Donnhoff Oberhauser Brucke Riesling Spatlese ($65) Stunning intensity and minerality are the hallmark of this wine. It pierces the palate without weighing it down. Lusciously ripe pear and mango, wet stone, wheat and spices abound.
Roberto Viernes is a master sommelier. E-mail
.(JavaScript must be enabled to view this email address)
Most Recent Comment(s):