The Many Pleasures Of Gigondas

By
.(JavaScript must be enabled to view this email address)
Wednesday - February 06, 2008
|
Share

Del.icio.us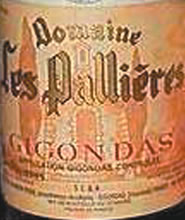 Domaine Les Pallieres Gigondas
I have been drinking Domaine Les Pallieres Gigondas for almost a decade now. It has always been one of my favorite wines from the southern Rhone Valley because of its expression and value. I was finally able to visit the vineyard itself and see exactly what makes the wine.
Gigondas is an appellation just northwest of the more famous Chateauneuf du Pape. It used to be labeled under Cotes du Rhone Villages until it became its own AOC status in 1971. In the simplest of terms, it is like a younger sibling to Chateauneuf du Pape. It is based on the same Grenache grape for its great reds and roses.
Ten years ago, Domaine Les Pallieres was purchased by America's foremost French wine importer Kermit Lynch along with winemaker extraordinaire Daniel Brunier of Domaine du Vieux Telegraphe in Chateauneuf du Pape as his partner. Kermit says he simply fell in love with the terroir of the estate when he visited. Sixty-two acres of the estate are planted to primarily Grenache with some Syrah, Mourvedre and Cinsault. It is located in the north-ernmost nook of the appellation with a portion of the old vineyards on single rowed terraces that were built in ancient times to cope with the slope of the land. Another part of the vineyard is sloping vineyard that faces northwest. Now, when I say old, the average age of the vines here is 50 years, with some of the oldest vines hovering around 80. The older the vines the less they produce, but the more concentrated and complex flavors that are squeezed into the grapes. All the vineyards are covered in rock that has eroded from the mountain range of the Dentelles de Montmirail over eons. It is a very rocky surface. The soil is very shallow, between one meter and two, on top a bed of highly compacted red clay. Because of this terroir, the vines have to dig deep into the earth find sustenance, giving the wine an earthy gout de terroir.
At harvest, the grapes are hand-picked with a stringent sorting before selective de-stemming and a gentle pressing. The fermentation is in temperature-controlled concrete and stainless steel tanks. It stays in the tanks for around eight months before being racked into large French barrels, called Foudre, where it will age for six to eight months, and bottled without filtration to retain all its flavor.
The rose is the Domaine's "white" wine, since the authorities do not allow a white wine to be labeled under the Gigondas AOC. It is like sunshine in a glass, and boasts tons of floral, white peachy and orange blossom aromas. On the palate it is not light, but it is as refreshing as most whites with a wonderfully intense flavor of apple chips and strawberry.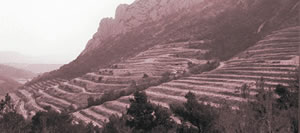 Domaine Les Pallieres in the southern Rhone Valley
But the red is its pride and joy. The red starts with boastful aromas of black cherries, overripe cranberries and cassis along with savory notes of an herb garden and olives. There is always a note of spiciness not unlike white pepper - not too much, just enough, like in a dish - and the telltale note of wet river rock that is strewn throughout the vineyards. It is always a rich wine, but not overbearing. It is hearty and satisfying like a hot, thick stew on a cold night. It hints toward jam, with ample structure to pair with a roasted leg of lamb or any roasted game. There is spice and earth here that also are terrific with mushrooms and almost any Mediterranean-style vegetable and meat dish.
I love the way Domaine Les Pallieres Gigondas ages so remarkably well. At a tasting of vintages back to 1998, the wines grew with even more complexity, the terroir standing out among the broad fruit.
I mentioned the value here. The wine is as good as most Chateauneuf du Pape at half to a third the price. Lucky for me, I have these wines aging in my own cellar. That is, if I can resist the urge to open them up to revisit their pleasures.
Roberto Viernes is a master sommelier. E-mail
.(JavaScript must be enabled to view this email address)
Most Recent Comment(s):