The 'Others' Offer Great Food Pairings

By
.(JavaScript must be enabled to view this email address)
Wednesday - October 07, 2009
|
Share

Del.icio.us
C&K sing, "I am the other man, yes I am the other man." Sometimes I think I am the "other" man, too - no, not in the sense of relationships, but my drinking habits.
You know when you sit down at a restaurant and take a look at the wine list? The large majority of wines listed are Chardonnay, Sauvignon Blanc, Pinot Grigio, Cabernet Sauvignon, Merlot and Pinot Noir. But have you seen the "Other" sections? Sometimes it's called "Other Whites" or "Other Reds." Sometimes it's spiced up a bit: "Other Adventurous Reds" or "Other Fabulous Whites." But it is always the "Other" wines, and the wines on that list get me more excited than the "everyday" varieties.
There are some really fun wines that offer terrific value in this area of a wine list. Many times it includes some fairly mainstream wines because sometimes there is no full section reserved specifically for Syrah or Shiraz, Riesling, Gewurztraminer or even Pinot Grigio, so they get lumped in with the more esoteric wines. But it also includes many of the world's great wines: Nebbiolo, Grenache, Sangiovese, Albarino, Verdejo, Viognier, Gruner Veltliner, Chenin Blanc, Marsanne and Roussanne, to name a few.
So I go to a restaurant for dinner with a friend and I take a look at the wine list. I see a whole load of Chardonnay and Cabernet, blah, blah, blah. It's filled with boring stuff mostly, things you see commonly at other restaurants. One of the wines is a well-known Cabernet, which I won't name but rhymes with "quiver joke" and it was marked up more than the norm. I thought, "Ouch! I wonder if they sell any of it?"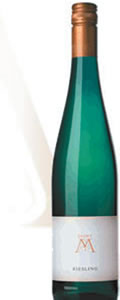 A Riesling that sings/td>
Then I look toward the end of the list to where these "Other Reds" are usually cordoned off, and I see a bottle of Betts & Scholl Grenache for only $39! Now that's a good deal. So I ordered it up. This is an old-vine Australian Grenache made by fellow Master Sommelier Richard Betts. The vines range anywhere from 50 to 80 years old. It springs from the glass with sweet and spicy raspberry, strawberry and wild blackberries. It is rich but not overpowering, with a velvety texture. It was a stellar pair with the grilled pepper steaks we ordered, and I didn't have to fork up the $100-plus for something of equivalent quality in the Cabernet Sauvignon section.
Quite often the "Other" is a section of the wine list that offers wines that go better with the food the restaurant is serving. Take your local Asian restaurant and pretty much any fish preparation on the menu. Whether it's misoyaki-glazed steamed fish with ginger, green onions and sweet soy sauce, sweet-and-sour fish or even fried fish, none goes all that well with Chardonnay, even though it's the No. 1 sold white wine in the U.S. And believe me, I drink my fair share of Chardonnay as well, so this is not a poohpooh Chardonnay deal. But with Asian preparations there is so much of the four S's (sweetness, sourness, spice or soy) that it requires something "other" than Chardonnay. Riesling is great and is found under the "Other Whites" heading most of the time.
By the way, have you had the Chateau Ste Michelle 'Saint M' Riesling lately? This is another of my Value Finds. At just $12 retail, it's a perfect wine for these types of dishes. It sings with sweet peaches, lemon crumb cake and nectarines. It is slightly sweet and light with a vibrant and long after-taste. Another "Other" that goes great with this type of food is Chenin Blanc, and my recommendation is the 2007 Champalou Vouvray ($18) which is dryer, but reminds me of bubblegum, sweet honey, melons and a zesty finish that cleanses your palate for the next bite.
So the next time you're dining out, don't discount the "Other" section on the wine list. You may just find the best deal and the best pairing for your dinner.
Roberto Viernes is a master sommelier. E-mail
.(JavaScript must be enabled to view this email address)
Most Recent Comment(s):