The Point Of Describing Wines

By
.(JavaScript must be enabled to view this email address)
Wednesday - February 14, 2007
|
Share

Del.icio.us
Don't you hate it when people use descriptors for wine that seem so far off the map that it makes you not want to drink the wine? As I write, I always try to describe wine in a manner that not only illustrates the actual flavors of the wine, but also conveys the overall feeling and impression that the wine brings to me as I taste and drink it.
Some writers are extremely imaginative. A few years ago I started seeing the word "jazzy" pop up in descriptions of wines.
What exactly is that supposed to mean?
First off, jazz has so many forms, it is in itself quite free-flowing, and to the untrained ear it can be dissonant and frenetic. But sometimes it is smooth and mellow, melodic even.
So how is that supposed to translate into the wine? Which one is it? Is it the thumping, get-your-heart-pumping, jump-outof-your-seat kind of wine? Or is it the cool dude, snapping-your-fingers-and-slowly-rocking-your-head-to-the-beat kind? You tell me.
I think it is difficult to describe wines through music in general. I wouldn't consider myself an expert in music, and I certainly don't assume that my readers are either. Yes, there are certain icons like Beethoven, Verdi and Satie, but how many of us can even name one piece of music from each of these composers? Not to mention these composers, like winemakers and their wines, have several compositions that are utterly different in personality.
The late isle comic Rap Reiplinger had his famous cooking show host "Aunty Marialani," who said those immortal words describing the wine, "Not too sweet, not too rancid, but just right!" Such wisdom and clarity! I love it. I also love her description of the wine being "subtle yet annoying, and flam-boyantly indiscreet" and "morose in attitude." I hope I never have a wine like that! I'd be depressed. Thinking back, that was actually my first-ever exposure to wine descriptions. Go figure how I turned out to be a wine-o.
On the other hand, it's really too little, too cut-and-dried to describe a wine with just fruit flavors and components. When describing wine, one must have something more than just cherries, blackberries, acidity, tannin and alcohol. Does that sound appetizing to you?
And how about when you have 10 different Pinot Noirs? They all have cherry flavor and spice, or they wouldn't be Pinot Noir. Often writers have to be brief in their presentations of wines as well, perhaps too brief. The whole experience is dwindled down into a couple dozen words. How sad, when the experience of drinking wine is so much more.
Brevity, however, does help to keep the reader's attention. And keeping a reader's attention is really what writing is all about, isn't it? (I hope you're still reading this too.)
It's even worse for us to give wines points and to diminish the pleasure of wine into pure mathematics. This point scale thing has gotten to the point, no pun intended, that it's really a 10-point scale, from 90-100. If anything scores less than a 90 in a publication, people won't buy it. People have the impression that wines that are rated 89 points and below are not worth drinking.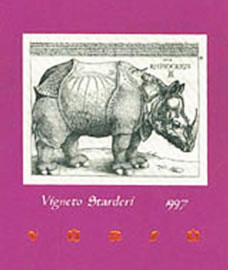 La Spinetta Barbaresco 'Starderi'
That is simply not true. Every wine has a story to tell. Some wines have a boring one. Others are enlightening, uplifting and riveting. It is up to us writers to help convey those stories. Richard Olney quotes Aubert de Villaine, co-owner of Domaine de la Romanee-Conti in his book Romanee-Conti as saying, "Words are not the language of wine." This is absolutely true, but there is no other way for us to share the experience other than through words without actually sharing a glass. I would much rather do the latter.
Cheers!
Recommended drinking: 2001 La Spinetta Barbaresco "Starderi" ($90) Impactful wine, gorgeous range of flavors, lengthy aftertaste and soul. This is a keeper.
2005 Donnhoff Schlossbockelheimer Kupfergruber Riesling Spatlese ($39) Stunning wine, just everything you could ask for in great Riesling.
Roberto Viernes is a master sommelier. E-mail
.(JavaScript must be enabled to view this email address)
Most Recent Comment(s):