The Silver Lining: New Wines

By
.(JavaScript must be enabled to view this email address)
Wednesday - March 25, 2009
|
Share

Del.icio.us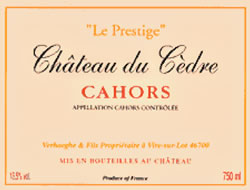 Chateau de Cedre Cahors: masculine
In our current economic environment, everyone is modifying their spending habits, including wine drinkers. Many of us have either downgraded or just decreased our consumption. Trends show that we are drinking less-expensive and/or less wine.
The silver lining is that many wine drinkers in search of value are now discovering interesting and perhaps even esoteric wines. These can be found in many forms. But here is one that is sure to impress you red-wine drinkers.
Do you like rich Cabernet or smooth Merlot? Well, you're not alone. Have you ever had a Cahors? Cahors is an appellation in the southwest of France along the Lot River southwest of Bordeaux. These wines owe their richness in color and flavor to the Malbec grape, locally known as Cot. (Malbec also is used traditionally in Bordeaux blends for its color and structure.) Within its thick skin lies plenty of color, the beautiful aromas and flavors that amateurs have enjoyed in Cahors for decades.
Malbec is allowed to be blended with Merlot and another indigenous varietal known as Tannat. Flavors of fresh and dried blackberries abound, along with a savory/sweet-smelling herb complexity often described as tobacco or sage. Some can be leathery and spicy with black plums and always a hint of earth-iness.
The soils here are gravel and clay alluvial deposits, thanks to the Lot River. There are some pockets of quartz and limestone that give many of the wines a unique minerality and richness.
Styles of Cahors can range from almost jammy like a Shiraz, powerful and structured, to a smooth and almost elegant Merlot.
The finest examples combine the best of the above. Personality-wise, it reminds me of a more "countryside"
Bordeaux with more structure. I might have said that Cahors is a bit more rustic before, and that still may be true for some, but the top producers are now just as polished as any Bordeaux, without any harshness.
For those looking for power and richness, I recommend Chateau du Cedre. The vineyards are liberally peppered with stones the size of baseballs, not unlike areas of Chateauneuf du Pape, which lend to the masculinity and power of their wines. Their "Le Prestige" (90 percent Malbec, 5 percent Tannat, 5 percent Merlot, $25) is already impressive with really intense blackberries, dried plums and hint of sandalwood spice and fresh violets. It attacks your palate with flavor and thick texture.

Chateau du Cedre: The vineyards are peppered with stones the size of baseballs, which lends to the power of the wines
In 2005 they produced an especially muscular cuvee called "GC" (only 2,700 bottles' worth) that could take down a bull. This is made only in great vintages using unique winemaking techniques (for the area), such as a 40-day extraction period in new 500l French oak casks. It comes from their oldest Malbec vines, from 45 to 60 years old. If you ever have a chance to drink this impressive wine, you would be considered fortunate.
And if you find some to lay down for a few years, they will repay your palate in ways you could not imagine. Toward the elegant spectrum, the estate of Clos la Coutale ($15) has that and flavor in spades. This is regularly 80 percent Malbec and 20 percent Merlot and has a juicy, fresh, ripe black cherry and cassis character. It has a soft roundness and great balance, and is perhaps the best value of them all.
For the amount of intensity and pleasure you get from these wines, you would have to pay double or triple in some of the other classic areas such as Napa Valley, Bordeaux and Burgundy.
So here's to the silver lining: May you find pleasure in new wines you have yet to drink.
Roberto Viernes is a master sommelier. E-mail
.(JavaScript must be enabled to view this email address)
Most Recent Comment(s):