The Sweet Truth About Winemaking

By
.(JavaScript must be enabled to view this email address)
Wednesday - February 18, 2009
|
Share

Del.icio.us

2007 Chateau Ste. Michelle M Riesling: not too sweet
What do these three statements share in common?
"They must put sugar in the wine to make it sweet."
"I think, because the grapes are so ripe, they leave sugar in the wine to keep it sweet."
"You can tell how sweet the wine is by how dark the color is."
Answer: They are false. Sweet wines are not as popular today as they were 100 years ago, when people's tastes preferred sweeter wines. But there are still many delectable sweet wines that you would enjoy more if you knew more about them.
How do wines become sweet? Well, they all start sweet. When the grapes are harvested, they are picked at optimum ripeness and they have extremely high sugar content. If you ever get a chance to taste a vat of grape juice destined to become wine, you will taste just how sweet they are. The juice is even sweeter than an average pineapple or orange juice off the store shelf. By adding yeast or having natural yeasts present on the skins of the grapes, fermentation begins. Fermentation changes sugar into alcohol and carbon dioxide. In dry wines, practically all of the sugar is fermented out, leaving no residual sugar. But for sweet wines, there remains some residual sugar that we taste as sweetness.
This sweetness is left in the wine by several different techniques. In some cases, the yeast that is used or present is not strong enough to ferment all the sugars, thereby leaving a quantity of residual sugar. This is the case with many white wines from northerly wine growing areas such as Canada, Germany, Alsace and Austria. In other cases, winemakers deliberately stop the fermentation prior to the wine becoming dry. They can do this by adding sulfur, which kills the yeast, as many German and Austrian winemakers practice. Others add a quantity of alcohol to the fermenting wine, which also kills the yeast. Yeasts can only withstand limited levels of alcohol. This is the process that is used for "fortified wines" such as Port, Madeira and Sherry, as well as Vin doux Naturel from the South of France, like the famous Muscat Beaumes de Venise. In rare occasions, alcohol is added prior to fermentation, which results in what the French call Vin de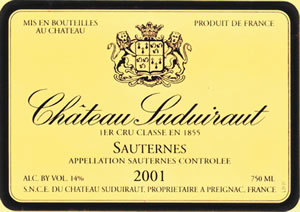 2001 Chateau Suduiraut: liquid gold
Liqueurs, which are very sweet. Ratafia and Pineau des Charentes are made using this technique. The last way the winemakers can stop fermentation is by filtering out all of the yeast prior to the wine fermenting dry. This is usually done in bulk, and is used for less-expensive wines.
Sweet wines can range from just off-dry all the way to dessert sweet. They always have a place on the table, whether it is to offset the spiciness in a dish or as an accompaniment to a rich dish such as sautéed foie gras. They can be a wonderful glass on a hot afternoon, and even can be a nightcap with a great cigar.
With, or as, a dessert, sweet wines will always be around, and I'm sure you can find one that you enjoy, especially since now you know how they got to be so sweet.
For the sweeties: 2001 Chateau Suduiraut, Sauternes, France ($80/375ml) This is like liquid gold and dessert sweet but balanced. Glacee apricots, crème brulee and apple pie are all found in this delicious wine.
2007 Chateau Ste. Michelle Saint M Riesling ($13) It has wonderfully vibrant pears and flowers, is light and not too sweet. This is a wine your lady will love to sip and savor.
Roberto Viernes is a master sommelier. E-mail
.(JavaScript must be enabled to view this email address)
Most Recent Comment(s):