The Wine World's Great Palate Divide

By
.(JavaScript must be enabled to view this email address)
Wednesday - March 16, 2011
|
Share

Del.icio.us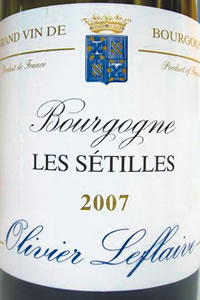 Well-balanced with terrific fruit A yummy Vouvray
There is a great divide in this country. I'm not referring to liberal versus conservative or Democrat versus Republican. I'll let political experts handle those. It is a divide of the palates. I witnessed this divide at a Shiraz tasting for wine lovers at Formaggio Wine Bar.
I selected seven different Shiraz, ranging in retail prices from $17 to $450. They were all highly rated by the Wine Advocate, ranging from 90 to 100 points. As we progressed through the tasting, it became apparent that half of the tasters were awestruck by the richness and weight of the wines. I should mention that the alcohol levels ranged from 15.2 percent alcohol all the way up to 17.2 percent!
Interestingly, the wine with the most alcohol also was the most highly rated. In most cases, the higher the alcohol, the more impressed this half of the tasters became. The flavors of these wines were rich, deep, intense and powerful.
They absolutely loved drinking these wines.
On the other hand, the other half of the tasters became more jaded about the character, or lack thereof, in the wines as the tasting progressed. They commented that they all tasted the same. There was no lack of flavor, but a general lack of character and "soul" in the wines. Cough syrup and jam were descriptors that these tasters used to describe these wines. They were overpowering and lacking in elegance. As the "dump" bucket attested by its location at this end of the table and its apparent content, these tasters seemed not to enjoy this type of wine.
This is a classic phenomenon that shows just how different our palates are. There are some who enjoy and require full flavors - flavors that are impactful, overt ripeness and fruit flavors. This is the school of more is better. Even in regard to alcohol levels, it is easy to understand why wines with higher alcohol levels seem more aromatic and flavorful when you realize that alcohol evaporates at a higher temperature than water. Therefore, when a wine has more alcohol, it is more likely to carry more aromatics and flavors to our receptors than a wine with less.
This is not to say that just because a wine has more alcohol it has more flavor, but all things being equal, wines with higher alcohol are much showier. This palate enjoys wines like Shiraz, Zinfandel, warm-climate Cabernet and Merlot. These are wines with gusto and fireworks. This is the rock band concert replete with laser lights and fog machines palate.
The other palate appreciates more elegance, subtlety and finesse. These palates require flavor as well, but not at the sacrifice of harmony and "bigness." They need not be hit over the head with flavor but are happier with complexities and nuances. Perhaps this is the more "classic" music tone of palate. This is the Pinot Noir camp backed up by Brunello and Barolo with a splash of Cru Beaujolais from time to time. This palate values more natural beauty in wine rather than made or "enhanced" traits.
There is room for both in the wine world. It is more important to know which one you are than to give one more value than the other. Neither is in danger of becoming extinct. But it is rare for someone to truly enjoy both. You will lean one way or the other over the divide.
Recommendations: 2009 Oliver Leflaive Bourgogne "Les Setilles" ($22) Terrific fruit ripeness with nice note of earthiness, very well-balanced and really pleasing. This ranks very highly on my quality for money scale! 2009 Champalou Vouvray ($17) There are few things as refreshing as a chilled glass of this Vouvray. Beautiful honeysuckle, citrus and vivacious refreshability (I think I made that up). Just yummy!
Roberto Viernes is a master sommelier. E-mail
.(JavaScript must be enabled to view this email address)
Most Recent Comment(s):