Those Shameless Wine Groupies

By
.(JavaScript must be enabled to view this email address)
Wednesday - January 09, 2008
|
Share

Del.icio.us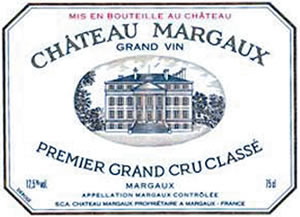 This Margaux goes for $750
Have you ever heard of a wine groupie? Maybe you've seen them. Or maybe you are one of them and you just don't know it. Yes, just as in any industry there are people that would do almost anything to drink the best wines of the world or to be able to drink it with the "superstar" winemaker that made it. They come in all kinds of shapes and forms.
I once went to a wine tasting that was held for the trade, so all the invitees were from local restaurants and hotels. Of course, there were several famous wine-makers presenting their wines.
Every time I went by those few tables, there was a throng of people surrounding them. Yes, the wines were excellent, but these people circled the tables like vultures above a dead carcass. And they didn't leave. This included a conglomerate of young, attractive ladies as well as young men. The ladies, I think, were interested in more than the wine. The men were trying their best to befriend the winemaker so perhaps they could get a better allocation of the hard-to-get top-tier wines, or perhaps get an invitation to visit the winery. Funnier yet, after the tasting was over, those same people followed the winemaker to another locale for dinner and drinks. I don't know if any of them were successful in acquiring that which they sought, but I do know that most of them don't even carry the wine in their own establishments.
Over a period of time, I also met a couple, who, whenever they saw a close friend of mine known to always be drinking fabulous wines wherever he travels, continued to insert themselves into conversation. On one occasion they went as far as to invite themselves to his table while offering wines of lesser ilk to share.
I thought to myself, "are they really trying to be friendly, or are they befriending with an ulterior motive?"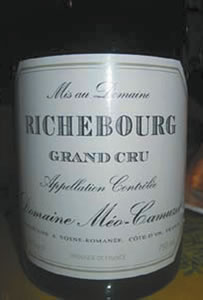 This Richebourg is rich, $650
It is not uncommon for wine lovers to gravitate to great wines, but this was a bit much. Yes, they remain acquaintances, but exactly why I am not sure. I make no judgment on the quality of their personality, but I thought it was funny that if wine was not around, neither were they.
I also know of a young man who happened to show up to tastings without being invited. He just happened to be there at the same time, or he would volunteer his services just to be able to taste the wines. The rarer and more expensive the wines, the harder he would try to be at that event. He would flatter winemakers, distributors and importers alike to befriend them. Can you say "brown-noser"? His desire to drink the best wines was equaled only by the amount of money he spent on obtaining great wines, just so he could finally be invited to special tastings and dinners to include such wines. I'll bet if you asked him to change his wedding day to accommodate a Romanee Conti tasting, he would do it.
Come to think of it, this young man sounds a little like me. Could I be one too? Are you one too? What would you do for your favorite wines?
Wines that will get you groupies:
Any First Growth Bordeaux or Grand Cru Burgundy. These wines are guaranteed magnets for wine drinkers. Just be prepared to pay the price. A bottle of 2005 Chateau Margaux will set you back $750 and a bottle of 2004 Meo-Camuzet Richebourg is $650. For that price, maybe they should come with friends.
Roberto Viernes is a master sommelier. E-mail
.(JavaScript must be enabled to view this email address)
Most Recent Comment(s):