'Un-oaked' Pairs Better With Food

By
.(JavaScript must be enabled to view this email address)
Wednesday - February 20, 2008
|
Share

Del.icio.us
Paso Nobles 'un-oaked' Chardonnay
What is the deal with all these un-oaked Chardonnays popping up like yard weeds? Have you tried one yet? Do you know what to expect? It sounds pretty straightforward, but how does it taste?
First of all, don't you think they should call it just Chardonnay? It just shows that, when most people drink Chardonnay, they automatically think the wine is going to have some type of oak flavors, ranging from just a suggestion to a toasty, new 2-by-4 in the glass so thick you have splinters in your teeth. They associate buttery, vanillin, wood and spice flavors with Chardonnay.
But not all Chardonnay wines see wood-aging. Many Chablis producers have never used any "new" oak barrels. (Only new oak barrels actually impart flavor into the wine. Once used, older barrels have no more flavors to impart.) But the word gets around, and now many producers in the "new world" are starting to fashion some delicious and fun wines without the use of oak.
So, without the wood, you would think these wines might be steely, lean and mineral, so much so that they would be completely unappetizing. Well, think again. These wines have some of the brightest and most unbridled fruit aromas and flavors you can find in Chardonnay.
Case in point: Four Vines Winery in Paso Robles makes a un-oaked Chardonnay called "Naked" Chardonnay ($12) made by "mad" Christian Tietje. He drives a dually with the license plate ZINBICH and loves to live life to the fullest every moment. It shows in his wine. It opens with poached apple and pear aromas and a touch of fig jam. It is smooth and creamy with lovely balance and clean finish. It's a cleansing drink that is very satisfying.
Trevor Jones Winery in South Australia makes "Virgin" Chardonnay ($17), which is just as much fun. Trevor Jones dresses in his gum boots wherever he travels and has a fiddlehead moustache, so he's not hard to spot at wine tastings. The wine hints toward mango and papaya with zesty citrus on the finish. It is a little lighter in body, but no less impactful.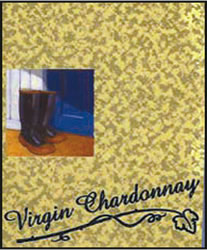 Trevor Jones 'un-oaked' Chardonnay
Kim Crawford Un-Oaked Chardonnay ($18) from New Zealand is a zesty example with really bright and pure Chardonnay aromas. It is a "porch pounder" that you should be able to knock back in large portions.
Another example that is absolutely delicious is the Melville Clone 76 Inox Chardonnay ($32). Atop all these beautiful tropical fruit aromas and flavors is an added dimension of minerality that is reminiscent of the "old world." It has a sleek, velvety texture and persistent finish.
Even richer still is the Diatom Huber Ranch Chardonnay ($38). This has as much hedonistic power as most wines with oak. It is heady with flowers, orchard fruits and a clinging aftertaste that just goes on and on. Both the Melville and Diatom are made by wine "steward" Greg Brewer. He does not like the term winemaker, as he feels that the vineyard is more important than his function in the winery.
Beyond the cool names they carry, the real plus is the wines go really well with food. Without the heavier texture and flavor of butterscotch, toast and vanilla, the wine can pair with more subtle flavors and dishes. Think about something like sashimi with a big, oakey brute of a Chardonnay. I don't think so. But with un-oaked, bright Chardonnay, they make a much more amicable pair. Even simply baked fresh fish with olive oil, citrus zest and herbs won't get "killed" for a second time with these Chardonnays. Shellfish makes another great combo.
So, if you're tired of Chardonnay, maybe it's time for you to try the un-oaked version.
Roberto Viernes is a master sommelier. E-mail
.(JavaScript must be enabled to view this email address)
Most Recent Comment(s):