Waxing Poetic About Favorite Wines

By
.(JavaScript must be enabled to view this email address)
Wednesday - July 30, 2008
|
Share

Del.icio.us
In my line of work, you can imagine that I hear all kinds of quotes about wine. Some are true, some are nonsense. But I think all of them are entertaining. Here is a list of some of my favorites.
"Champagne is the only wine that leaves a woman beautiful after drinking it." - Jean-Antoinette Poisson, also known as Madame de Pompadour, mistress to Louis XV and fashion icon of the time. Ladies in particular seem to love this quote. I rarely meet any ladies who do not enjoy Champagne. Go figure. I can't imagine the same thing happening to a woman drinking a Jager-bomb (Jagermeister and vodka)! Although some men who drink Jager-bombs might think women become more beautiful after drinking a few.
Lily Bollinger's (of Champagne Bollinger) famous reply to the question, "When do you drink Champagne?" is one that always touches my funny bone: "I only drink Champagne when I am happy, and when I'm sad. Sometimes I drink it when I am alone. When I have company, I consider it obligatory. I trifle with it when I am not hungry and drink it when I am. Otherwise I never touch it - unless I'm thirsty." So, when is it that she doesn't drink Champagne, exactly?
"May all your pain be Champagne." This is one that I first heard my co-worker offer. But then would it still really be pain, or pleasure? Or does it turn the pain into pleasure or just deaden the pain? Anyway, it's cute and always gets a smile or a snicker from everyone who hears it.
Here is an extreme quote from a dear friend that shows his devotion to Champagne: "Life is not worth living without good Champagne." By the way, he drinks a glass of Champagne every day. Yes, every single day, and at least one.
A couplet from Benjamin Franklin. "Wine makes daily living easier, less hurried, with fewer tensions and more tolerance." That sounds like a nice way to live doesn't it? He also calls wine ... "a constant proof that God loves us, and loves to see us happy." I believe that, and I like to be happy, too.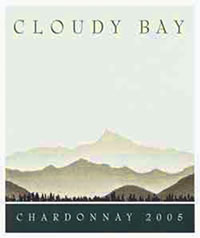 A sleek wine with tons of fruit
Here is a funny one from the famous German poet Johann Wolfgang Goethe. He was asked by Bernulf Brucker what three things he would take to a deserted island. "Poetry, a beautiful woman and enough bottles of the world's finest wines to survive this dry period!" Then he was asked what he would leave back first, if only two things were allowed onto the island. And he briefly replied: "The poetry!" Slightly surprised, the man asked the next question: "And, sir, what would you leave back if only one was allowed?" And Goethe thought for a couple of minutes and answered: "It depends on the vintage!" It begs the question, was Goethe married?
Kermit Lynch features this gem from Thomas Jefferson on the back label of all the wines he imports to the U.S. "Good wine is a necessity of life for me."
Ovid blessed us with a lyrical line: "Where there is wine, sorrow and worry take wing." (The Art of Love c. A.D. 8). I cannot remember drinking wine and ever being sad. Even at funerals, fine wine softens the blow.
There are plenty more where those came from. What are some of your favorite wine lines? I'd love to hear them.
Two wines that could inspire prose:
2006 Philippe Faury Cote Rotie ($65). This top-notch Syrah from the northern Rhone is a benchmark for people who love the intense black fruit essences of Syrah along with a complexity of earth and spices. One to seek and savor.
2006 Cloudy Bay Chardonnay ($28). Wow, was I impressed when I tasted this Chardonnay. It was sleek with tons of fruit and flavor but without the over-the-top butteriness of so many plonky Chardonnays.
Roberto Viernes is a master sommelier. E-mail
.(JavaScript must be enabled to view this email address)
Most Recent Comment(s):