Wines That Improve With Age

By
.(JavaScript must be enabled to view this email address)
Wednesday - December 26, 2007
|
Share

Del.icio.us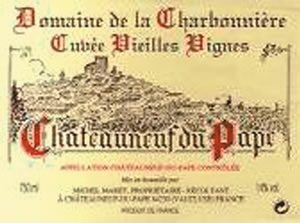 2005 Domaine de la Charbonniere Chateauneuf du Pape
What makes a wine age-able? For those who have the luxury of time and proper storage, it is important to know how to tell if the wine you like will indeed improve over time. Not everyone likes "aged" wines; I do, so I wanted to give you a few tips on judging the age-ability of your wines.
My first recommendation is that you make sure you have proper storage: 55 degrees Fahrenheit, 70 percent humidity and no vibration is ideal. A cool closet in the bedroom or rack in your garage will not do. If you are planning to age wine, you have to make a decent investment to protect the investment in your wine.
Secondly, the best way to judge the age-ability of wine is to look at track record. Many of the wines that are highly coveted by collectors have tremendous history of aging and developing into greater beauty and flavor over the course of years, and in exceptional instances maybe decades. If the producer has a track record of wines that have improved over time, the chances that wine you buy now getting better are greater.
It's also important for you to be familiar with how the particular wine ages. In conversations with one of the U.S.'s greatest importers, who has 35 years of experience, he often says that in order to find out how the wine will age, it is important for you to taste the new wines every year and over the course of the years. In his eyes, and I would tend to agree, it is almost impossible for someone to taste a wine for the very first time and automatically be able to extrapolate just how long its life span will be without knowing how other wines from the same estate have developed.
Now beyond these platitudes I look for specific things in the wine as well. I look for overall balance in a wine combined with an intensity of all the components that make up the wine. The main components to look at are flavor (this can be of fruit and earth), tannin (particularly for red wine), acidity and alcohol.
Flavor is obviously important for aging. The famed Henri Jayer, perhaps one of the greatest winemakers this century, is known for alleging that great wines will always taste good throughout their lives - no matter how young or old. The fruit flavor is of primary importance because when we drink wine, we want to be able to taste fruit. Earthiness is important as well, but without fruit flavors wine just doesn't taste very good. I like wines that are earthy, too, but it's not the only thing I want to taste when I drink it. That fruit intensity has to be there to be able to support the structure of the wine. If it "dries" out, the wine will be like an empty shell.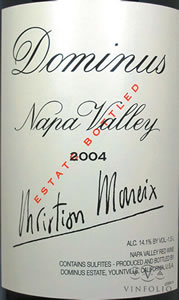 2004 Dominus, Napa Valley
By structure, I mean the tannin, acidity and alcohol of the wine. Tannin is that gritty feeling you feel on your gums, like when you chew on just the skin of a red grape. That is primarily where tannins come from, but they can also come from the oak barrels in which the wine is aged. White wine usually has no tannin at all, but for red wines, it is the scaffolding that allows wine to age well. Although tannin should be present, it should not be overly aggressive, green, herbaceous or harsh like sandpaper. Those types of tannin rarely ever subside or meld harmoniously into an aged wine. They stick out like a sore thumb, ruining the balance of the wine. I look for well-integrated and ripe tannins. These mellow over time and result in a wine with lovely texture.
Acidity is another part of the structural equation. It is a life preserver. A wine without enough acidity will not age as long, or will perhaps deteriorate quickly. Conversely, a wine with too much acidity is not much fun to drink. Acidity does not change in a wine as it ages, it is a constant. So if it has too much or too little to begin with, the wine will only show more of the fault over time.
Finally the alcohol level in a wine must be balanced. Nowadays, alcohol levels are on average higher than ever before, but that doesn't mean they are necessarily unbalanced. When you taste the wine, the alcohol must not be overt or overpowering. It should only add to the experience of drinking, not detract. If you feel an overt heat on your chest or if the wine tastes like vodka or gin, to me that's a sure sign of too much alcohol. Alcohol does not change in a wine over time either, so as with acidity, it is important for it to be in balance.
In the end, balance is the ultimate key. An unbalanced wine is almost never age-able and, in most cases, also less drinkable for me. When you find a wine that is balanced with great intensity of all the key factors, that is the wine you want to age. So when should you finally drink it? That will take some time.
Age worthy: 2005 Domaine de la Charbonniere Chateauneuf du Pape Vieilles Vignes ($60) This spicy, rich and deep Grenache-based wine, made from 50-plus-year-old vines, has all the components for delicious drinking now and over the next decade. 2004 Dominus, Napa Valley ($110) What I like about Dominus every year is that it is better balanced than most other BIG Cabernets from Napa Valley. Thick, complex and a long finish make this a candidate for aging.
Roberto Viernes is a master sommelier. E-mail
.(JavaScript must be enabled to view this email address)
Most Recent Comment(s):