Wines To Make Thanksgiving Dinner Sing

By
.(JavaScript must be enabled to view this email address)
Wednesday - November 24, 2010
|
Share

Del.icio.us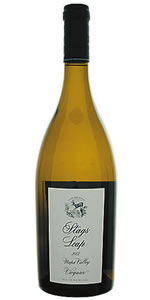 A floral Viognier rich enough for ham Layers off flavor
Thanksgiving is the most hedonistic holiday of the year. Everything we think about is focused on eating, drinking, partying and fun!
What are we going to cook? What am I going to buy and bring? I wonder if Auntie is going to wear the same dress - again?
Thanksgiving is full of tradition, and with it comes many standards. Turkey is a standard with all the fixings. Some families have other standards: a certain dessert that aunt so-and-so makes, the imu that I attend every year, and sometimes even the wines that we drink.
But this year I thought I would change it up a little. I came up with a list of standard food items that you will see on tables as you bounce from house to house, and suggest things that you may have had before, but also some things that just make Thanksgiving meals more fun, at least until your gut tells you "no more!"
Turkey with the fixings: However you make your turkey - slow-roasted in the oven or on the grill, fried or in the imu - it still tastes like turkey, right? But the fixings can be different. Cranberry dressing and gravy are my favorites to lavish over the dark meat. 20100 Duboeuff Beaujolais Nouveau ($14) is a traditional pick, as is Pinot Noir. I've been all over the 20099 Forefrontt Pinott Noir ($18), which is just brimming with spiced cherries. It feels like liquid silk on the palate and is as good as many more expensive pinot noirs. On the non-traditional side, the 20088 Bertani Valpolicella ($15) is more cranberry than cherry with a lighter body, but the structure goes perfectly with turkey and cranberry dressing.
Baked ham, mmmmmm! The smoky, salty, fatty treat is a staple for some. A nice, rich Chardonnay would be lovely and easy to do. One of the more tasty examples I've had recently is the 2008 Healdsburgg Ranches Russiann
River Chardonnay ($15). It opens with super-ripe, yellow-and-white, fleshy fruit along with a well integrated butter and vanilla streak. It is elegant enough for sippers and thick enough for the heavy drinker, too. On the flip side, I would recommend the 20088 Stags Leapp Wineryy Viognier ($19). This wine just blasts you with gorgeous flower scents along with sweet orange and nectarines. It is rich enough for the ham with a hint of wood to accent the smoky pork.
Fantastic with grilled meats
Grilled steaks: I don't think they had much of this when the Native Americans got together with the pilgrims, but who can resist the charm of charred meat?
Cabernet Sauvignon is the king of the grilled meat, and the 20088 Ironyy Cabernet Sauvignon ($15) isn't shy. This wine has layers of flavor, starting with blackberry preserve, anise and black cherries. It has a nice lace of vanilla and a thick middle full of richness. On the other hand, the 20088 Layer Cakee Primitivo ($15) is another wine that is fantastic with grilled meats. It is even more jammy (being an Italian Zinfandel) with rounded and smooth texture. But don't be fooled, this wine has girth - something we all have after a great Thanksgiving meal.
Whatever your tradition is for Thanksgiving, I wish you the happiest of holidays. Be safe and drink good wines. You never know what tomorrow brings.
Roberto Viernes is a master sommelier. E-mail
.(JavaScript must be enabled to view this email address)
Most Recent Comment(s):