Wines To Match Your Many Moods

By
.(JavaScript must be enabled to view this email address)
Wednesday - October 14, 2009
|
Share

Del.icio.us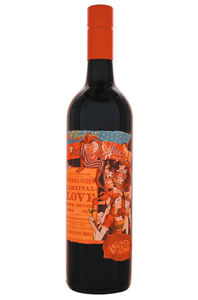 A wine with true intensity
I often ask people what they like to drink. Many say it depends on what they are eating. OK, that's a good thing. Some say it depends on who they are with. That's OK too. (I wonder what they serve their in-laws?)
And then there are those who say it depends on how they are feeling.
Hmmm. I wonder about that one. Do their feelings dominate that much of their lives?
Emotions can be quite strong, so I thought I might just tell you what I think I would drink if I were feeling a certain way. (Although, for me, it depends more on what I want to drink, not about what I'm feeling.)
If I were angry, I really wouldn't feel like drinking anything. It would be a waste on me, as wine is for enjoyment. It isn't something to drown sorrows in or to turn someone's anger. It is meant to enhance and improve a meal, a gathering or celebration. But if I had to drink a wine while I was angry, I guess I would have to drink a BIG, thick, blockbusting Shiraz. Nothing says angry in the wine world to me like Shiraz. Shiraz is the "I don't care about how you feel, just see how much flavor I have" kind of wine. It would probably be the only thing strong enough to surmount my anger. A 2007 Mollydooker 'Carnival of Love' Shiraz ($110) would do the trick. Despite its "lovely" moniker, it is a wine with true intensity and almost overpowering flavors of jam, anise, vanilla and currants. You could cut it with a knife and serve it with a spoon, it is so thick.
Again I'm not sure I could drink anything, but if I had to drink something while I was sad, I would probably drink Champagne. This may seem oxymoronic, as Champagne is most associated with celebration. But, for me, the bubbles, the complexity that only a secondary fermentation can release in the wine would help to buoy my spirit. It is exactly what I would need in a time of sorrow or pain. I would need to remember the good times and be appreciative of what is good in life. A bottle of NV Pommery Brut Royal ($39) could turn my focus. Visiting the property and cellars is a real treat. This Champagne is so refined and elegant that it can make people smile with one sip.
And if I'm feeling melancholy or lackadaisical, I'm sure a great bottle of Burgundy would perk me up. There is nothing like your favorite to bring you back to life. I recently had a bottle of 1993 Rousseau Chambertin Grand Cru that just knocked my socks off. It is the kind of wine that encompasses hedonistic pleasure along with the finesse and pedigree of Grand Cru Pinot Noir. It oozes the gorgeous mature Pinot Noir aromas and is simply silky on the palate. It ain't cheap, but few things this good are.
Moods come and go. But there is a wine for every mood if you're in the mood for wine. Now, if I were feeling, shall we say, aroused ... but let's not go there. This is a family publication.
Roberto Viernes is a master sommelier. E-mail
.(JavaScript must be enabled to view this email address)
Most Recent Comment(s):