You Know You're A Wine Geek When ...

By
.(JavaScript must be enabled to view this email address)
Wednesday - October 22, 2008
|
Share

Del.icio.us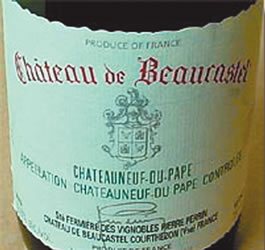 Rich, intense and powerful
Everyone knows I'm a wine geek, and people like to test my knowledge of the wine world quite often. It is amusing to hear some of the questions. It got me thinking. Could you be one too?
Here are some ways to know if you are a wine geek:
* You would rather go to a wine dinner/tasting instead of going to a movie. Both are forms of art and great sources of discussion and ideas. But I always feel "better" after having wine. I can't remember the last time I felt the same way after watching a movie.
* You know all the names of the different bottles sizes. No one would ever need to know them unless you intended to buy them, serve them or just wanted to stump your sommelier friends.
* You know what any of the following abbreviations stand for when pertaining to wine: AOC, AVA, DOCG, WO and GI. Appellation d'Origine Controlee, American Viticultural Area, Denominazione di Origine Controllata e Garantita, Wine of Origin and Geographic Indicator are not household words by any stretch of the imagination, but they are legal categories for wine.
* Your electricity bill for your wine cellar(s) exceeds that of your refrigerator.
* You can recite more than a dozen Chateaux from the Classification of 1855. There were 61 Chateaux classified for red and 26 for sweet white wine. This is minute to all except those in love with Bordeaux wines.
* You keep a label, empty bottle and/or cork collection. I've seen some tasteful displays of these, but I've also seen rooms where corks were everywhere and roaches were in empty bottles.
* You know where the following soil types are found in the wine world: Terra Rossa, Kimmeridgian Cay, Slate, Tufa and Loess. Coonawarra, Chablis, The Upper Mosel, Vouvray and the Wachau are all home to classic wines. You may not know that these vineyards have them, but when you drink wine from these areas, that earthy taste is all from these soils, respectively.
* You spend more time looking at a wine list in a restaurant than looking at the food menu. I did this once, spending more time looking at it than conversing with my wife (to my detriment).
* You can name more than a dozen grape varietals. There are a baker's dozen that are authorized for the appellation of Chateauneuf du Pape Rouge alone and a few thousand that make wine.
* You have more wine openers in your kitchen cabinets than spatulas and tongs combined.
*You walk into every liquor store while you are traveling on vacation hoping to find a good deal on a buried treasure of a wine.
*You bring your own wine glasses with you to restaurants so you can optimize your wine experience.
* You have maps of wine regions on your desk and office walls instead of pictures of your family.
* You refuse a wine because it is not the vintage that you wanted. Who cares if it is one year off? I do. It can mean the difference between a prince and a pauper. * You know more winemakers' names than congressmen.
* You have more decanters than coffee cups.
If you said yes to 1 to 5 of these statements you are an oenophile, 5 to 10 you are a connoisseur, 10 to 15 you are a true wine geek. If you answered yes to all of 16, you should seek help.
Recommendations: 2005 Chateau de Beaucastel Chateauneuf du Pape ($105) This is a wine that will last a long time, rich, intense and powerful. I highly recommend decanting if you drink it any time soon. 2007 Veramonte Sauvignon Blanc Reserva ($10) This is an absolutely terrific value. It is zesty and refreshing with tons of apple, grapefruit and guava fruit flavors.
Roberto Viernes is a master sommelier. E-mail
.(JavaScript must be enabled to view this email address)
Most Recent Comment(s):