A Hip Solution For Dental Implants
By Dr. Cameron Y.S. Lee
Wednesday - January 25, 2012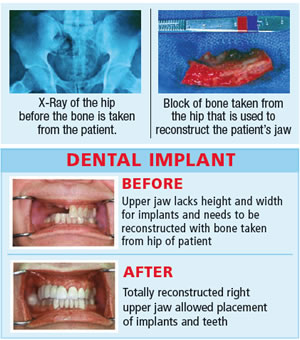 QUESTION & ANSWER WITH…
Dr. Cameron Y.S. Lee
Oral And Maxillofacial Surgeon
Q. As an Oral and Maxillofacial Surgeon, when does Dr. Cameron Lee decide to reconstruct the thin upper jaw with bone taken from the hip of the patient so dental implants can be placed to support a complete denture or support individual artificial teeth?
A. According to Dr. Lee, implants cannot be placed in the jaws unless there are satisfactory amounts of bone. Use of bone from the hip is considered when substitute bone materials or bone from the patient such as from the jaws, leg and skull do not provide sufficient bone quality and quantity. Obtaining bone from the hip requires performing the surgery in the hospital and under general anesthesia. In addition, this usually requires an overnight stay as part of the recovery process. As this is an extensive surgical procedure and can be financially expensive, this is a last resort surgical plan when all other plans are not possible.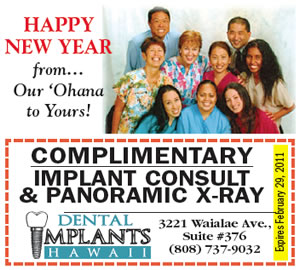 At Dental Implants Hawaii we take pride in finding the dental implant solutions for your missing teeth. Comfort, Affordability, Function, and Esthetics are our utmost concern. Dental Implants Hawaii is located in the Kaimuki Shopping Center, 3221 Waialae Avenue, Ste. #376, above Longs Drugs. Contact Kaimuki Center For Dentistry (808) 737-9032. We do dentistry too!
[CLICK ADS FOR LARGER]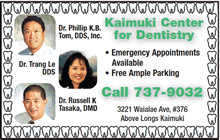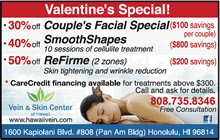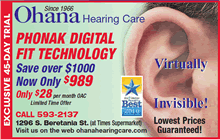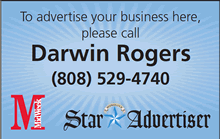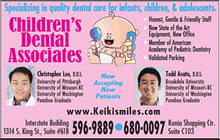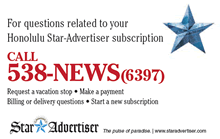 Most Recent Comment(s):