A CONSERVATIVE ESTIMATE
October 26, 2011 - MidWeek
By Rick Hamada

The relentless assault of troubling news continues, and it's understandable that angst and anxiety remain on the increase here at home and across the nation.
Read Column>>
COFFEE BREAK
January 25, 2012 - MidWeek
By Jerry Coffee

Twenty-three years ago, an American missionary couple in the Philippines (we'll call them Pam and Bob) were busy doing what missionaries do: bringing souls to God. With four children already, their prayers for a fifth child were answered when Pam became pregnant.
Read Column>>
JUST THOUGHTS
January 25, 2012 - MidWeek
By Bob Jones

How did Hawaii appear to Mainlanders the year before the Pearl Harbor attack? Here are excerpts from a 1940 Forbes article titled Hawaii: Sugar-Coated Fort.
Read Column>>
MOSTLY POLITICS
January 25, 2012 - MidWeek
By Dan Boylan

It was, as it was a year ago, film noir at last week's opening of the 2012 state legislative session: No music, no dancing, few flowers, sobriety everywhere. The residents of the so-called "People's House" were in high re-election-year mode: all business, levity at a minimum.
Read Column>>
THE RIGHT PRICE
January 25, 2012 - MidWeek
By Larry Price

The square building on South Beretania is the most interesting structure on Oahu. Its open-air design is appropriately shaped like twin volcanoes surrounded by a reflective pool filled with tilapia frolicking in and out of a few wellplaced foundations.
Read Column>>
DICK ADAIR
January 25, 2012 - MidWeek
By Dick Adair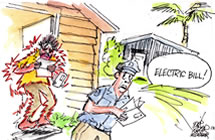 Read Column>>
ROY CHANG
January 25, 2012 - MidWeek
By Roy Chang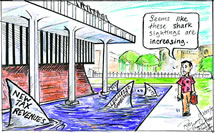 Read Column>>