11 Million Cars And Counting
Yuki Yoshikawa didn't set out to be the king of Hawaii car washes, but by offering a good wash and friendly service, that's exactly what happened. Today, McKinley Car Wash cleans and polishes 750 cars a day11 Million Cars And Counting
Wednesday - June 23, 2005
By Chad Pata
E-mail this story | Print this page | Archive | RSS
|

Del.icio.us

Much like Christopher Columbus, who set out looking for a short cut and discovered the New World, Yukio "Yuki" Yoshikawa was just trying to drum up a little business for his gas pumps and created a local landmark.
McKinley Car Wash is celebrating 41 years of washing cars and causing congestion on Kapiolani Boulevard, where the lines sometimes stretch back 15 cars deep as regulars wait patiently for their favorite shine job.
But things were not always this way. Shortly after the end of World War II, Yuki bought a tiny gas station from Tidewater Associated Oil Company in the spot next to the current car wash. He named it McKinley Motors Service after the nearby high school, and Yuki handled the gas and his brother handled the service.
"We did service calls, changed flats, did all the things that a service station did in those days," says Yuki of his early years.
"Times were very, very tough, so we started giving free washes in 1952. If a customer bought 10 gallons or more, we'd wash the car for free."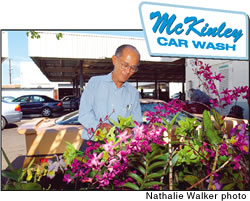 Yuki Yoshikawa tends to the orchids he raises
at home to brighten McKinley Car Wash
Little decisions like these shape men's lives, and people began flocking to his station. On Saturdays they were washing 300 cars — all by hand — and Yuki knew he had hit onto something.
Dark clouds formed again over Yuki in 1962 with the landlord wanting to use the land for other purposes (it now contains Pro-Am Golf Shop).
So Yuki moved his station next door to the vacant lot and a car-cleaning legacy was born.
Officially opened in 1964, the original shop contained a couple of service bays for doing basic car service along with the gas pumps and car wash.
"Business was better than we expected, so after a couple years we had to give up oil changes and became strictly car washes and gasoline," says Yuki, who continued to give away the washes until the OPEC oil embargo of 1973 forced him to lower his gas prices and not include the wash.
Yet the business continued to thrive and others began to try to cash in on the deal with the openings of multiple car washes all over Oahu. But Yuki took it all in stride.
"Everybody thinks it's a gold mine, but they get in and find out it is not what they thought it was," says Yuki as he counts off all his competitors that have closed. "Competition is good, makes us work harder and give better service. A lot of businesses don't like competition, but it was good for us."
To watch the McKinley Car Wash in full swing would have made Henry Ford proud and its competitors shudder. Everywhere you look there are employees in their signature coveralls swarming over cars.
If you have never been, the concept is simple: $7 with a fill up, $8.50 without ($10.25 for vans or SUVs). But unlike in your typical station where you run through a mechanical car wash that blowdries you car on the other side, they attack the dirty problems with manpower.
First the "vacuum boys," as they are known, suction out the interior of your car before you are waved over into the 50-yard-long auto washer. Here you leave the driving to them and take a stroll past beautiful orchids that Yuki raises at home, following your car and watching through a glass wall as it is soaped, scrubbed and run through the ringer.
Finally, the best part is when your car comes out the other side and a gang of wipers cover your car like a school of piranha, making sure that not a single water spot remains. All this for about the price of a movie — and it is no wonder that people line up for it like it was a summer blockbuster.
In an average day they get through about 750 cars during the 12 hours they are open. They would get through more, but those monster SUVs aren't just bringing the environmentalists down.
"Today with the SUVs it takes two to three times longer to wash them or else we could easily do 150 more cars a day," laments Yuki over the gas guzzlers that are rapidly overtaking our island.
Another setback for his business is the robust job market, making it hard to find workers to fill his laborintensive positions. But the employees he has love their work and know what it takes to get the job done.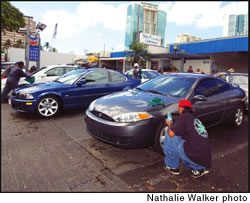 Freshly washed cars get the final touch, a
thorough wipe-down to remove water spots
"Lots of people don't enjoy what they are doing, but I do and that helps me do my best," says Matthew Kelepolo, who has spent the better part of 30 years gassing up the cars for Yuki.
Along with fueling vehicles it is also his job to teach the new guys how to work hard. Kelepolo insists that kids these days are spoiled and have to be taught how to work and appreciate what you have.
"It's hard to make the boys understand, they come from the South Seas and they never work in their life," says Kelepolo, who notes most of his coworkers are from Samoa and Micronesia. "So we help them with their attitude and train 'em up so they can support their family in the American style."
He has help in teaching these life lessons: His brother Willie has worked there almost since opening day and also helps to teach them by example.
"You've got to work hard for the customer and give 100 percent, because nobody is going to feed you," says Willie Kelepolo, who along with Matthew is one of 17 brothers and sisters who share a Hawaiian-Chinese-Portuguese heritage. "Every time a car turns its nose in, it's more money for the company and more money for the boss."
He might sound like a sycophant, except for the fact that he is involved in profit-sharing and knows that more money today equals an easier retirement for him tomorrow.
"Make the customer happy, and they keep coming and keep coming and they say 'you still working here' and I say yep," says Willie, who at 65 is not looking to retire anytime before his 80-year-old boss does.
"If Yuki can make it 10 more years, than I can make it 10 more years, then I'll wrap it up." Another sight you might not expect to see in any successful business is the boss doing the dirty work.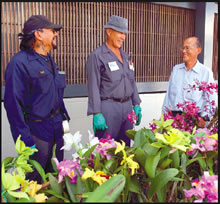 Yoshikawa with brothers Matt (left) and
Willie Kelepolo
But when Yuki was handling the day-to day-work he was still pumping gas, and now that he has stepped back a bit, you'll find his son Craig hard at work running things by the seat of his pants waxing cars.
"Nowadays you go into a place and never see an owner, just a cashier, and no one to answer your questions," says Craig as he finishes shining up a vintage burnt-orange Trans Am. "Here we have found our niche, and we have very loyal customers who know we'll be here for them."
If you start doing the math, you start to realize the definition of loyalty, when you estimate that they have washed in the ballpark of 11 million cars over the past 40 years.
Eric Stojkovick, an accountant who brings his car in twice a month for a fill-up, shrugs off the long lines and insists, "They do a lot better job here than anywhere else."
Yuki agrees with Stojkovick's assessment, casting a gaze next door at his competition, Kapiolani Car Wash Express, where no one is waiting in line to have their grime rinsed away.
"We do a better job of cleaning the car, and our work is better than they can get any other place," says Yuki, almost indignant at the question of why they are the best. "So despite waiting in line people would rather come to us than to go anywhere else. That's the reason they come here."
It comes off a little prideful when you first hear it, but the success of the car wash does not come from the pride, but the effort that allows the pride to speak.
"The only difference between us and all the others that have closed," says Yuki, surveying the line of filthy automobiles creeping around the corner, "is we are not afraid to work."
Page 1 of 1 pages for this story
Most Recent Comment(s):
Commenting is not available in this weblog entry.