The Wisdom of Youth
You'll be amazed and feel positive about what this younger generation can accomplish at the insights expressed by Hawaii high schoolers in an APEC-sponsored essay contest that asked them to come up with ways of creating a sustainable future for the Islands.

Wednesday - November 02, 2011
By
.(JavaScript must be enabled to view this email address)
E-mail this story | Print this page | Archive | RSS
|

Del.icio.us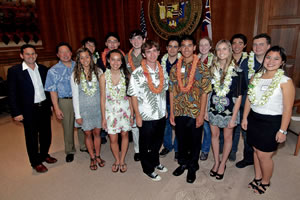 (back row, left to right) Dan Ju, Ben Chao, Alexander Bitter, Jake Belding, Aloe Corry, Evan Chinn, Kyle Jones, (front row, left to right) Lt. Gov. Brian Schatz, Peter Ho, Ashley Fuerst, Sarah Tyler, Matthew Matasci, Shane-Justin Nu'uhiwa, Sophie Johnson and Tiffany Yu
Next week the world turns its attention to Waikiki, as representatives of 21 nations gather for seven days of economic discussion and investment cooperation. But before any of that began, the Asia Pacific Economic Cooperation summit Hawaii Host Committee turned its attention to the state's next generation of leaders to mine their thoughts on how to create a sustainable future.
The turnout was as impressive as the commentary.
More than 500 high school students submitted essays to the committee, and the range of topics and common sense solutions to the planet's biggest problems were impressive. The five winners received Apple iPads, and the 10 recognized for honorable mention were rewarded with $100 Apple gift cards.
"There were a couple of things that stuck out to me," says Lt. Gov. Brian Schatz, who served as a contest judge.
"First was the level of complexity that they were able to understand. They weren't just saying we should be sustainable and the rest of the world should too. They were really understanding that sustainability is not just a question of wanting to, but how do we effectuate that in a way that is fair and equitable ... in a way some of the students are more mature in their thinking in the inherent tradeoffs in achieving sustainability than many adults are."
"The isolation of the islands literally and figurative is a way of the past. As the power of technology grows, our ties to each other become stronger, transportation and communication swifter, and we, the human race, come closer together across cultural, linguistic, economic and national boundaries ... true economic strength does not come without environmental stewardship."
Zoe Sims,
Hawaii Preparatory Academy,11th grade
Primary topics of focus this year are green initiatives, sustainability and climate change. These are critical subjects, say host committee members. The Asia-Pacific region accounts for 60 percent of the world's energy consumption, and that number is expected to grow. APEC has created three working groups to help member nations meet their target goal of reducing energy use by 25 percent by 2030, the same year the Hawaii Clean Air Initiative calls for 70 percent renewable energy.
"Hawaii was a perfect place to locate APEC this year because of our cultural diversity, but also because the things in this year's APEC are really targeting green growth, and we have an encouraging story to tell," says Schatz. "This is a chance for Hawaii to showcase what it is doing with sustainability and how that can be replicated across the Asia-Pacific region."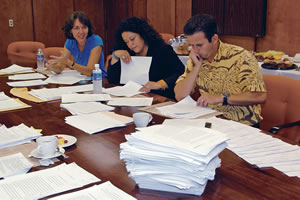 Judges Susan Essoyan, Maya Soetoro-Ng and Brian Schatz. Nathalie Walker photo

.(JavaScript must be enabled to view this email address)
"... A diversified economy, coupled with the wise use of Hawaii's natural resources to produce more food and energy locally, would increase the actual economic production of Hawaii; that is, not only could more products be considered 'Made in Hawaii,' but most of these would also be 'Consumed in Hawaii.'"
Alexander Bitter,
Waiakea High School,12th grade
Peter Ho, chairman, president and CEO of Bank of Hawaii and host committee chairman, says opening opportunities for Hawaii's youths to participate was essential. Schatz agrees.
"When you think about the opportunity present with APEC, there is the certain short-term economic benefit, but the long-term impact for Hawaii is to more deeply engage in the Asia-Pacific region," says Schatz. "That is going to take time, so we want to make sure the young generation of scholars understand what a leadership role Hawaii is playing in the Asia-Pacific region, and also that we intend to increase rather than decrease that role."
" ... On that pixel lay all the wonders that humans have ever known wonders that are now threatened by human development. As global warming and climate change threaten the "pale blue dot," the demand for sustainable development that 'meets the needs of the present without compromising the ability of future generations to meet their own needs' grows even greater."
Ben Chao,
IolaniSchool, 11th grade
One of the biggest ecological and financial concerns in the Asia-Pacific region is rising sea levels. According to an Environmental Protection Agency report, global average sea level is estimated to rise between .5 and 2 meters by 2100. The report, "The Potential Effects of Global Climate Change on the United States," says a 1-meter rise could inundate 5,000 to 10,000 square miles of dry land if shores were not protected, and that protecting these areas
Page 1 of 2 pages for this story 1 2 >
Most Recent Comment(s):