'Yeah, I'm theatrical and I'm proud of it'
Honolulu, prepare for a glitter tsunami. Adam Lambert, whose performances have been described as brilliant madness, is sweeping into the Aloha State with his Glam Nation Tour.

Wednesday - October 20, 2010
By
.(JavaScript must be enabled to view this email address)
E-mail this story | Print this page | Archive | RSS
|

Del.icio.us

Honolulu, prepare for a glitter tsunami. Adam Lambert, whose performances have been described as "brilliant madness," is sweeping into the Aloha State with his Glam Nation Tour. Expect plenty of the aforementioned glitter. And dancing. And smoke and lasers. And most of all, expect to be seduced by a performer whose motto is "More is more."
No, Lambert is not known for subtlety.
He might also be the busiest man in the universe, as I found while trying to pin down an interview. He is young, just 28, and his life has literally exploded since his attention-grabbing run on American Idol just a year ago. He did not win. It doesn't matter.
His freshman album, the eclectic pop/rock For Your Entertainment, has sold more than 1 million copies worldwide. His critically acclaimed concert is selling out everywhere he goes. Despite his punishing schedule, when we finally connected via phone Lambert was gracious, articulate and down-to-earth.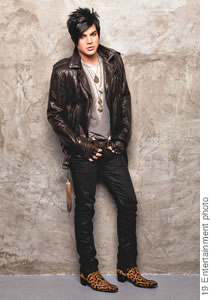 Yes, Adam Lambert is all about glam, but his singing is called 'operatic'
"It's a show, people!"
Lambert arrives in Honolulu smack dab in the middle of the international leg of his tour. He has dazzled audiences across the U.S. Mainland as well as Singapore, Japan, Malaysia, Australia, New Zealand and Hong Kong. After Hawaii, he takes the Glam to Europe.
Lambert had a hand in every part of its creation, he says: "I wanted it to reflect different parts of me."
And it does. I saw the show in Seattle, and the Glam Nation experience is aurally sumptuous, visually arresting and emotionally exhilarating. Loosely divided into three "acts," the first pulses with themes of obsession, dominance, sexuality and heartbreak. The second act is an acoustic tour de force, exploring vulnerability, self-awareness and acceptance. His (and our) journey culminates in a beat-driven celebration of music, joy and love. It is, quite simply, a love fest.
What ties it all together is Lambert's greatest asset - his voice. And it is extraordinary. Critics have described Lambert's octave-defying voice as operatic, powerful and even sublime.
That voice sets Lambert apart from his contemporaries in the competitive pop world. What propels him even further is his supreme confidence on stage. Lambert exudes a rare combination of vulnerability and alpha-male sex appeal. Beauty and beast combined.
His fans love it. They scream at every hip thrust and shriek approval when he smooches his cute bassist Tommy Joe Ratliff. It's aggressive, suggestive, but Lambert is the first to tell you he does it with a wink and a nod.
"What I do on stage, it is sexual, but it's a performance, it's a show. And women like it," he says, a hint of bemusement in his voice.
Not just women. Robert Sorenson dragged his wife from Canada to Seattle to see the show: "I made her come here. Oh, I think he's fantastic, a real showman. I love his voice."
What I found interesting in Washington was the diversity of Lambert's fans - teens and grandmas, hipsters and bikers, Goth kids, glittered-up "Glamberts," military dependents - all mingling and screaming together.
Thirteen-year-old Jaycee gushes, "Adam is a sexy beast and I love him. He means the world. And if I met Adam, I think I would die."
Next to her, 40-year-old Michelle Deeyoe says, "He seems like a real genuine person, He does-n't walk over people. I think he's brave."
"Don't worry friends: I'm still gonna be me. Always. Without apologies."
Lambert may be living the life of a rock star, but in person he is the boy next door. (Well, OK, a glammed up version of the boy next door.) He's sweet and polite, quick to
Page 1 of 2 pages for this story 1 2 >
Most Recent Comment(s):