Celebrating 350 Years of Shirokiya
After 52 years at Ala Moana Center, Shirokiya is as much a cultural experience as a retail one. Now there are plans to make the store even more of a little piece of Japan. Pictured with president Toshiyuki Okumura are Fumiya Matsushima (left) and Barbara Yonesaki, who have worked there since Shirokiya opened in 1959
Wednesday - July 20, 2011
By Chad Pata
E-mail this story | Print this page | Archive | RSS
|

Del.icio.us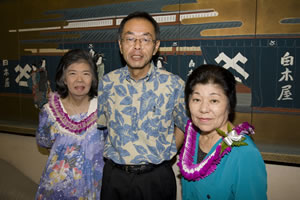 Barbara Yonesaki, president Toshiyuki Okumura and Fumiya Mastushima in front of a painting of the original Shirokiya from the 1600s. Leah Friel photos

.(JavaScript must be enabled to view this email address)
The only Shirokiya left in the world is at Ala Moana, and new plans will ensure it remains a center of Japanese culture and food
If you can say nothing else about the people of Hawaii, we know what we like and we are fiercely loyal to those who make the cut.
When Longs Drugs was bought out by CVS, its name changed everywhere in the country but one spot way out in the middle of the Pacific, because they knew local customers wanted to shop at a name they know.
When van cams came to save our streets from speeders, the community rose as one to return us to our men in blue and their radar guns. While none of us like getting a ticket, we at least wanted a face to go along with it.
So it should have come as no surprise to the Tokyu Group that, when it began to shut down all of its Shirokiya stores, one group would not stand by and passively take it. The store had more than 300 years of history in Japan, but it was the 43 years it had spent in Hawaii that created its most loyal customer base.
Upon hearing of their favorite Japanese enclave's imminent demise, the people of Hawaii sprung into action, gathering 30,000 signatures, most notably that of Hawaii's favorite elder statesman, U.S. Sen. Daniel Inouye.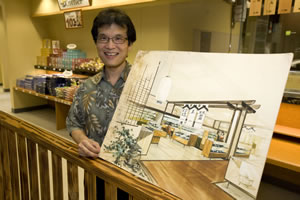 Shirokiya VP Jay Inatsuka with a sketch of the original store at Ala Moana from 1959
"At that time Tokyu Group planned on closing the Hawaii stores, too," says Toshiyuki Okumura, who has served as president of Shirokiya for the past two years. "But because the Hawaii people petitioned asking to please keep Shirokiya in Hawaii, we did. We are just so thankful to the people of Hawaii for helping us stay open."
The petition was sent to the parent company, which responded with a surprise move to all: It sold the company to its top seven executives in the Honolulu store for exactly $1. It forced the Tokyu Group to take a $23 million loss, but saved a lifetime of memories for the residents of Oahu.
"I signed the petition," recalls Mona Wood-Sword, who runs Ikaika Communications, which now represents Shirokiya. "I didn't want to lose it. My family always came here. It was like we were visiting Japan, a little piece of Japan. I had lived in Japan, and this was the only place like that."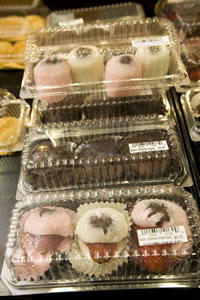 Assorted mochi desserts at Yataimura
After being closed for a year, the store reopened Nov. 17, 2002, to much fanfare, with then Gov. Ben Cayetano declaring it "Shirokiya Day."
Since that day it has seen a need to be more than a store to truly be a part of the perpetuation of the Japanese culture here in the Islands.
"It is not just a retail store, it is to bring the feeling of Japan to the people of Hawaii," says Okumura, who worked for the Tokyu Group in Japan for 40 years before taking the position here in 2009. "We are not just, 'Here, buy this. Retail, retail, retail.' And the local people understand that; it is a part of their life, just like going to school, 'let's go to Shirokiya.'"
Keeping that in mind, it has begun major renovations, in anticipation of its 350th anniversary, to help make Shirokiya as much a place to gather and enjoy Japanese culture as it is a place to buy St. Germain's goodies.
The first step is already open, with Yataimura replacing the housewares section on the upper level. It was envisioned as a traditional Japanese bazaar offering 21 yatai highlighting the best food from Japan.
Instead of cramped shelves of goods, the space has been opened up to accommodate 160 seats, where diners can choose from items such as soba noodles, sushi and assorted oden.
"The food court is again, entertainment," says Okumura. "We like to give a lot of foods, but not only that, but we want people to have fun. That is why we put in that trellis, whose flowers change with the
Page 1 of 2 pages for this story 1 2 >
Most Recent Comment(s):