The Lady Gaga of the Kitchen
All-star chef Anne Burrell brings her zesty wit and personality (and her special risotto) to Ko Olina this weekend for the Hawaii Wine and Food Festival

Wednesday - May 18, 2011
By
.(JavaScript must be enabled to view this email address)
E-mail this story | Print this page | Archive | RSS
|

Del.icio.us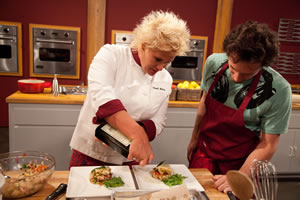 A scene from Worst Cooks in America
It's either triumph or consternation that the team captain for Worst Cooks in America is headlining the Hawaii Wine and Food Festival this weekend at Ko Olina Resort. Pour a glass of wine and relax. This is the best thing that could happen to a foodie event because the rock star of Food Network is coming to town.
Anne Burrell, chef-host of Food Network's Secrets of a Restaurant Chef and Worst Cooks in America, is making her Hawaii debut to prepare her favorite Farro Risotto dish for Friday's Grand Tasting and Fashion Show at 6 p.m.
Guests also will sample gourmet specialties from top local chefs whose food will be paired with fine wines from California and France.
The two-day festival, Saturday and Sunday, expects to draw 1,000 attendees, according to event organizer Keola Lloyd. A portion of the net proceeds benefit the Kapolei Foundation's education and scholarship programs for Leeward Oahu youths.
But the spotlight on opening night will be on Burrell with her blond spiked hair, pumped up personality, and larger-than-life presence.
She's the Lady Gaga of the kitchen.
A media critic proclaims, "Burrell may be the network's most watchable professional chef-turned-star. No one comes close to her ability to combine her restaurant-honed kitchen techniques with one of the most original, quirk-filled on-camera personalities."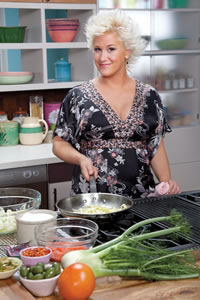 Chef Burrell is part cook, part rock star. Photos courtesy Food Network
The broadcast industry agrees. Secrets of a Restaurant Chef is nominated for a 2011 Daytime Emmy as outstanding culinary program. Burrell is a nominee for Outstanding Lifestyle/Culinary Host, vying against such seasoned pros as Martha Stewart and Paula Deen.
Burrell with her robust, zesty personality and own street patois, often delivered with a growl or chortle, is endearing, in a Julia Child sort of way. In a recent TV cooking segment, she refers to caramelized lamb pieces as "my beautiful babies" and cackles "burn baby burn" while torching sugar atop bread pudding.
Her kitchen lexicon comes with its own Burrellisms. Tasting is "QC," quality control. Let's eat comes out, "Let's plate this shooting match." But that's how Anne Burrell rolls.
Burrell's excited about her first visit to Hawaii, anticipating "flowers, beaches and a lot of pineapple."
How about romantic strolls on the beach in moonlight, we ask. She admits to being "involved" but dodges details on her current relationship status.
We best return to the kitchen, where Burrell, 41, is most comfortable.
Growing up in upstate New York, her passion for food and cooking began at an early age. Her first job was fry girl at McDonald's. After obtaining an English and communications degree from Canisius College in Buffalo, she pursued her interest in the restaurant business by enrolling in the Culinary Institute of America. Following graduation, she spent a year in Italy attending the Italian Culinary Institute for Foreigners while working at La Taverna del Lupo in Umbria and La Bottega del' 30, a one-Michelin star restaurant in Tuscany. Here, Burrell grew to appreciate and understand the philosophy of Italian cuisine and culture, which left a lasting impact on her culinary style.
Upon her return to New York, Burrell was hired as sous chef at Felidia Restaurant, working with Lidia Bastianich. She then served as chef at Savoy where she cooked over an
Page 1 of 2 pages for this story 1 2 >
Most Recent Comment(s):