View From The Top
It's good to be No.1 Bank of Hawaii CEO Peter Ho knows after Bankoh was named the best bank in the U.S. It's a big job, overseeing $12.72 billion in assets and 2,400 employees

Wednesday - November 10, 2010
By
.(JavaScript must be enabled to view this email address)
E-mail this story | Print this page | Archive | RSS
|

Del.icio.us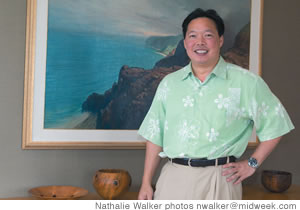 Peter Ho with a Howard Hitchcock painting of Kauai's Na Pali Coast from the early 1900s, purchased for the bank by Charles Montague Cooke, one of Bankoh's founders, and Ho's own collection of Hawaiian bowls
For Bankoh's Peter Ho, the success of the best bank in the U.S. is all about relationships with people
It takes two elevators to reach the executive level of Bank of Hawaii on the 22nd floor of Financial Plaza. There's no direct way to the top.
But that's not the case for Peter S. Ho, who seemingly has an express elevator in life that takes him expediently to the top of career and community endeavors. If you've been along for the ride, you know the meteoric rise to power he has taken.
Who is this young, 45-year-old banker who has quickly and quietly scaled the heights of Hawaii's financial hierarchy? Does he ride on the laurels of his well-known grandfather (Chinn Ho) and father (Stuart Ho), or is he his own man in a new century of Hawaii's generational leadership?
And what can we expect from this Punahou grad who is Hawaii host committee chairman of the influential Asia-Pacific Economic Cooperation (APEC) meeting next year?
If Peter Ho isn't on your watch list of CEOs with clout, he should be.
We meet Bank of Hawaii's chairman, president and chief executive officer in his lofty perch above Honolulu's financial district. His corner office is spacious and bright, causing our photographer anxiety from all the glare in the glass windows.
But, metaphorically speaking, one can't have acrophobia (fear of heights) or be blinded by brightness if you're keeping pace with Ho.
He is cordial and easygoing as he settles into a white upholstered chair to answer our questions. Having heard a speech he delivered days before to the Friends of East-West Center, we know he has an organized style of presentation. He sets the scene before getting into specific points. He's also a quick study, intent listener and scans information like an intuitive computer operating system.
As for that meteoric rise in banking, here is his career track.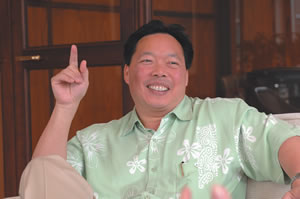 'Our success or failure,' says Ho, 'pivots on how successfully we work with people'
Ho, a Honolulu native, began his banking profession in New York City and in 1993 joined Bank of Hawaii as assistant vice president in the national banking division. Since then, he climbed steadily up the corporate ladder: senior vice president in 1999, executive vice president in 2001, group executive vice president and a member of the management committee in 2003, vice chairman in 2004 and chief banking officer in 2006.
He was promoted to president in 2008, and in July 2010 was elected chairman, president and chief executive officer, upon the retirement of Allan Landon, 62, marking a return to local-rooted leadership after 10 years.
Ho earned his Bachelor of Science degree in business administration and MBA from the University of Southern California. He was a Pacific Century Fellow in 1998 and Pacific Business News Young Business Person of the Year in 2003.
To get an appointment with Ho takes some tricky maneuvering with his travel itinerary. On the day of the interview, he is returning from trips to San Francisco, Boston, Japan and New York.
Once at home, he juggles pressing bank business and precious family time with wife Michelle and two young children.
"The last movie I saw was Toy Story 2," he laughs.
But when you're head of Hawaii's largest independent bank, a major publicly traded stock, an employer of 2,400 people and a financial service provider to more than 50 percent of the households and businesses in the state, you find a way to make it all work.
There's a quiet confidence about Ho that sets the tone for everything the bank does, ranging from basic personal banking to commercial and institutional fiduciary services.
Ho oversees Bank of Hawaii's total assets of $12.72 billion, and $9.6 billion in assets under trust administration, of which $6.5 billion is under direct investment management.
The company is listed on the New York Stock Exchange as "BOH." In the community, it's known simply as "Bankoh" with operations in Hawaii, Guam, Saipan, Palau and America Samoa.
This gives Ho a keen insight into island economies dependent on tourism and defense spending.
Maintaining quality financial services in a "highly challenging" reg-
Page 1 of 2 pages for this story 1 2 >
Most Recent Comment(s):