BERT'S ALL STARS
Bert Kobayashi helps lead After-School All-Stars, which provides safe and fun after- school activities for middle school students such as (from left) Hezekiah Padsing, Cheriece Ortiz, Terrance Keawe and Sarayah Harrington, from cooking to music to sports

Wednesday - August 17, 2011
By
.(JavaScript must be enabled to view this email address)
E-mail this story | Print this page | Archive | RSS
|

Del.icio.us
A new program, After-School All-Stars, provides constructive and creative fun for middle-schoolers, and Bert Kobayashi is excited to help lead the way
Standing in front of Dole Middle School in Kalihi brings back memories for Bert Kobayashi. He laughs as he recalls his trek from his home in the valley, through the neighborhoods, across the river "I would just hike my pants up and go across, but sometimes the water was really high!" to get to school. One of the most recognized real estate names in Hawaii, it's no wonder Kobayashi immediately points out that, when he was among the first group of students attending the school back in 1957, much of the area was relatively undeveloped. Many of the school buildings had not yet gone up. There was just a big open field where the students played, and back then there was no police station adjacent to the school.
Time seems to slow down as he remembers his smallkid days. It's easy to feel nostalgic about those simpler times when kids could mosey along to and from school with no worry of danger. Now, Kobayashi points out, both parents work, sometimes multiple jobs, and there are many single-parent households. Curtailed parental supervision means it's easier for kids to be exposed to the ever-evolving problems of violence, sex, drugs and alcohol, even at a young age.
Kobayashi is invested in getting kids the support and supervision they need, particularly during the impressionable middle school grades.
"Elementary school has after-school programs, high school has programs for athletics, but there's nothing for middle school. And this is where the kids get into trouble," he points out. "For the ones who get into trouble, high school is basically just graduating up to more trouble."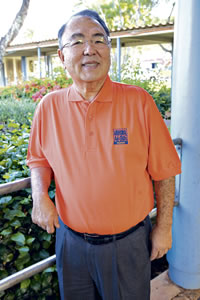 Bert Kobayashi: coming full circle. Leah Friel photos

.(JavaScript must be enabled to view this email address)
He signed on right away when Dawn Dunbar called Kobayashi in 2009 asking him to be on the advisory board of a program for middle schoolers called After-School All-Stars. As it happens, his wife Susan is a former teacher at Dole, and she also signed on to the advisory board.
Dole joins Kalakaua Middle School in Kalihi, S.W. King Intermediate in Kaneohe, Jarrett Middle School in Palolo, Washington Middle School in Honolulu and Ewa Makai Middle School in Ewa Beach in having an AllStars program. Monday through Friday, the sixthto eighthgraders are invited to participate in three hours of homework help, sports, music and dance lessons, cooking and other enrichment activities. And it's free. Many students in these Title 1 schools are in the free and subsidized lunch program, meaning the families don't otherwise have the funds to enroll their children in after-school programs or extracurricular classes and activities.
Kobayashi relates on a personal level. "When I was very small we were poor. I never thought I was going to be in a business with my dad."
He learned a work ethic at a young age. While he was in middle school, his father was struggling with a new construction company.
Little Bert didn't have much time to get into trouble. He describes himself as an average student just wanting to play, but by seventh grade he was introduced to the family business. When his dad became ill, Kobayashi stepped in to help run the company at 19, eventually founding Kobayashi Group. His two sons and daughter now run the real estate/investment firm, with Dad at the helm as senior adviser.
His participation with the All-Stars, particularly with Dole on the list of schools served, has brought Kobayashi full circle.
And he has a message to parents: "My advice, especially to middle school parents, is get involved with the school in whatever way you can. Even if you work two jobs, help volunteer. If kids see the parents at school, they know that they're involved and they will study harder."
Dunbar, executive director of the Hawaii chapter of All-Stars, says the program has been very successful for both parents and students. Through the program, students gain confidence as they prepare to enter high school, and their excitement draws the parents to the school in unprecedented numbers. Dunbar says school administrators are often amazed at the turnout for All-Stars' culminating event each term.
"We pack the cafeteria," she says. "The kids are so proud to show off something they've learned or to be able to perform something in front of their parents."
The program showcases everything the children have participated in, from hiphop to ukulele. If they've learned food preparation, they'll have a buffet. For
Page 1 of 2 pages for this story 1 2 >
Most Recent Comment(s):