Bethany's Story
Eight years after losing an arm in a shark attack, Bethany Hamilton loves the ocean and surfing as much as ever
Wednesday - April 06, 2011
By Chad Pata
E-mail this story | Print this page | Archive | RSS
|

Del.icio.us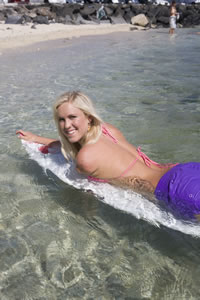 Surfing, says Bethany Hamilton, is 'a beautiful sport, and it's fun to share that' /Leah Friel photo

.(JavaScript must be enabled to view this email address)
It's a long way from Hanalei to Hollywood, but that journey comes to an end this Friday as Kaua'i's sweetheart Bethany Hamilton brings her story to the big screen nationwide in the film Soul Surfer.
Based on her autobiography, it traces Hamilton's life during those tumultuous months when she went from an up-and-coming surfer to a shark-attack victim to a national icon and eventual national surfing champion. It is a story made for the silver screen, and despite early reservations about it, Hamilton and her family are pleased with the results.
"She did an amazing job," says Hamilton of Anna Sophia Robb, who plays her in the movie. "It's not me, but I'm just happy with the way she portrayed me, and the overall film turned out so much better than me and my family had hoped for. We were a little nervous combining Hollywood with a true story. You never know what's gonna happen."
Artistic license is status quo with the Hollywood set, but the Hamiltons kept close tabs on the filming to make sure it stayed true to her story and beliefs. There was a small brouhaha concerning the portrayal of their religious beliefs when an editor Photoshopped out the words "Holy Bible" from the book Dennis Quaid, who plays Hamilton's father Tom, was reading at her bedside. But after expressing their concern, the words were replaced and the film-makers used their license for less sensitive areas, like building the drama in the surf matches.
"The cattiness between the girls in the movie was fictional," says Hamilton, "but I didn't mind because the girl who played Malina is a Kaua'i girl (Sonya Balmores Chung), so I was glad that she got a part. In competitive surfing there are definitely competitive vibes among all the girls, so it was all right. But not too many scenes were made up."
This love of the water led the 13-year-old Hamilton to amaze the world with her rapid return to the ocean. Her attack happened on Halloween in 2003, and less than four weeks later she was back out riding waves. The emotional toll such a tragedy would inflict on most people would keep them out of the water for a lifetime, and the replaying of the worst moment of your life in a movie would be something you would avoid at all costs.
But not Hamilton. Instead she got involved in the process of making that very scene, worried not about her own memories, but about the nightmares it might cause for others.
"I've healed really well from it so it wasn't too bad, and it was cool 'cause they let me go into the editing room a few times and give my feedback on how things were put together," says Hamilton. "I'm really happy with it because it is not too intense for young kids, which is what I was worried about. It is just how it was - just quick, in and out of there. No one saw nothing."
This simple statement of concern for others over herself may capture Hamilton better than any movie ever could. Once the promotions for the film are over with, she plans to return to her normal life: traveling the world over seeking the perfect barrel as a professional surfer.
She recently founded a nonprofit called Friends of Bethany in hope of supporting shark-attack survivors and traumatic amputees. But Hamilton knows that all wounds are not always readily apparent on the outside, and she hopes this film will help people in pain the world over.
"I know that a lot of families are going through rough times, or have or will, and I hope I can help encourage them to just push on and keep together," says Hamilton. "Our family has
Page 1 of 2 pages for this story 1 2 >
Most Recent Comment(s):