Join The Club
Shane Meleifea, Desiree Gomes, David Nakada, Alana Castillo, Sineo Heam, Tim Motts, Ernesto Yoro and Jalen Jovero are all in at the Boys and Girls Club of Hawaii as Motts takes the helm
Wednesday - October 19, 2011
By Chad Pata
E-mail this story | Print this page | Archive | RSS
|

Del.icio.us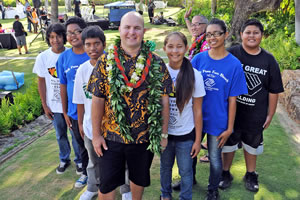 (from left) Jalen Jovero, Ernesto Yoro, Sineo Heam, Tim Motts, Desiree Gomes, Bob Nakada, Alana Castillo and Shane Meleifea
Cretin or cherub, what will they be? This is the question that keeps parents up nights, and one organization has been helping the latter come true for 35 years in the Islands: the Boys and Girls Club of Hawaii.
The first facility in the Islands was built on the grounds of Washington Intermediate School, opening May 3, 1976, with a young man named David Nakada freshly emerging from the education program at the University of Hawaii on staff. Nakada quickly rose through the ranks at BGC to the position of executive director in 1979, where he has remained until this year, serving as witness to how our youths have evolved through the years, but maintaining one constant throughout.
"One thing that hasn't changed over time is the need for the staff," says Nakada, who maintains a 25 to 1 ratio at all BGCH clubhouses. "If you don't have that enthusiastic staff member there to greet the kids, to make them feel like they are coming into a safe place, that they are going to be participating in something that is fun for them, then they are not going to show up.
"It is not a 'build it and they will come.' The whole idea of mentoring has to be in place, they have to feel like that adult who is working with them is providing that caring, nurturing feeling that may or may not be lacking in their lives. That element is not going to change."
Incoming director Tim Motts brings with him a youthful exuberance and the technology acumen to help lead the BGCH into the future, but he acknowledges that the base Nakada has built is the key to their success.
"It's not having the newest or greatest computer screen, it's a staff that really cares about whether they come day after day," says Motts, who was working at BGC in Southern California before taking this position.
The Boys and Girls Clubs have been around for more than a century with 4,000 clubs serving 4.1 million kids nationwide. A recent Harris Survey of the Club showed that 57 percent of kids in the program credited it for "saving their lives," and despite serving many communities with traditionally low graduation rates, club members graduated high school at a 90 percent rate.
Locally the club serves approximately 4,800 members while providing services for an additional 5,000 kids. The tightness of the local community was one of the major attractions for Motts.
"Boys and Girls Club in Hawaii really uses the 'it takes a village' concept; we get to really nurture all the kids from 7 to 17 years old through a myriad of programs and we really try to meet with them on a personal level," says Motts, whose wife
Alison Duran hails from Oahu.
"In Los Angeles there are 130,000 kids who come through the BGC, so it is much more of a transient population; you are not seeing them quite as often, but in Hawaii you have one degree of separation, it is one big community. Here it is a more holistic approach. It doesn't matter whether they are going to Nanakuli clubhouse or Windward side, we try to help them wherever they are at and provide them with comprehensive programs. It is much more of a family atmosphere, rather than just a service provider."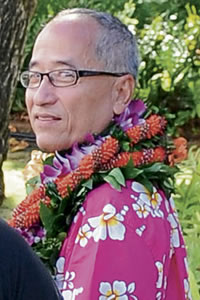 Tim Motts (above) takes the reins from David Nakada as executive director of Boys and Girls Club of Hawaii
Motts will oversee the club's transition to the brave, new world where kids are more concerned with 0's and 1's than they are with balls and strikes.
"The kids have changed over the years. They grow up a lot differently than they did when we first opened the doors," says Nakada, who has brought a modernization to the club but readily acknowledges his Luddite nature.
"They used to look forward to a lot more physical activities: going to the beach, playing outdoors, participating in a lot more activities. Even the indoor activities were more like shop, and that was what they were interested in. Kids today will choose to sit at a computer or text their friends. Technology-wise they are a lot more savvy, which is good, but we need to balance that with physical activity."
The danger of juvenile diabetes and childhood diabetes is ever present in their minds. How does one attract kids to stay in a 100 percent voluntary club while at the same time forcing them to exercise and be healthy?
"It is about appealing to the kids' interests and aptitudes while laying down the line where we are non-negotiable," says Motts. "That may sound contrarian, but we want to meet them halfway as far as technology, so we have state-of-the-art computer labs, digital media programs and our digital recording studios.
"So we have these opportunities for the kids, but while that is an option, it isn't the only thing we want to expose them to. We create a menu of opportunities but they have to pick a salad, they have to pick a soup, an entrée and a dessert."
The newest of these technologies is embodied in what Motts describes as the future of Boys and Girls Club: mobile units. It all started two years ago when Candy Suiso, the executive director of Searider Productions, discovered the Art Mobile was being decommissioned and contacted Nakada to see if BGCH would like to turn it into a roving movie production studio, just like Suiso runs in Waianae.
After gutting it and outfitting it with the latest technology, they now can reach out to rural areas where kids would otherwise never have access to such technology. It currently is on the Big Island, traveling from high school to high school, where it will remain through November.
Having this accessibility to kids without having to build a formal structure is an exciting prospect, but not without its drawbacks, namely money. The BGCH
Page 1 of 2 pages for this story 1 2 >
Most Recent Comment(s):