Big League
Saint Louis alum Brandon League has been blowing away big league batters as the Seattle Mariners' 'closer,' and is one of the pieces they're building the future of the franchise upon

Wednesday - September 21, 2011
By
.(JavaScript must be enabled to view this email address)
E-mail this story | Print this page | Archive | RSS
|

Del.icio.us

There's no more pressure-packed job in baseball than 'closer,' the pitcher tasked with getting the other side out in the ninth inning without scoring. Ben VanHouten photos /Courtesy of the Seattle Mariners
It's nearly 4 p.m. on an overcast day in Seattle, and Brandon League is preparing for work.
League laces up his shoes, rolls up his sleeves and prepares for another day at the office. For the Saint Louis High School product, a typical day at work is anything but ordinary.
For the Mariners' closer, his office is Safeco Field, a beautiful edifice situated behind Seattle's sprawling harbor along Puget Sound. As a light breeze rushes through the dugout where League is perched prior to pre-game warmups, the pitcher adjusts his team pullover as a nearby train blasts its horn and seagulls swoop in with the hopes of securing an early dinner. While the Mariners have long been out of the playoff race, today's mid-September contest is still meaningful for League and his young teammates who are working to build a foundation to last for years to come.
As the team's closer, League has one job: finishing games. It's his task to protect his squad's lead, and to clean up any messes left by pitchers before him. It's not an easy job, especially when one errant pitch can lead to his opponent possibly taking a win away from him and his teammates. But League embraces the pressure-packed role, and his first season as a full-time closer has been nearly lights out.
League got into baseball at age 7 while playing for a youth league in East Oahu, and went on to play for multiple traveling and all-star select teams that played across the country and internationally. He moved into the prep ranks at Saint Louis, playing at the Intermediate and JV levels before making the varsity squad as a sophomore. Fortunately for League, two of his senior teammates at Saint Louis including former major leaguer Chad Santos, who went on to play sparingly for the San Francisco Giants — were being heavily scouted, and he drew the attention of scouts representing a wide range of professional organizations. The exposure paid off, as League went on to earn all-state honors in each of his three varsity campaigns, won the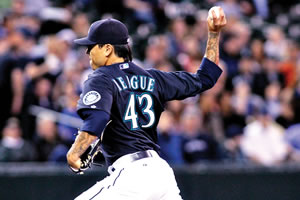 League's fast ball hit 98 mph in a recent outing
Gatorade Player of the Year in 2001, and he was eventually drafted that summer by the Toronto Blue Jays in the second round of the draft as the 59th overall selection and took home a $660,000 signing bonus that came with the honor.
"Draft day came, and I ended up going in the second round," says League, who passed on a Pepperdine Universtiy scholarship to play college baseball. "It was a tough decision, but it's hard to turn down that kind of money and such an opportunity right out of high school. I made sure that in my contract, if something were to happen where I didn't make it in baseball, or if I got hurt, that the Blue Jays will pay for my schooling wherever it would be."
League got right to work in the minor leagues, and after impressing team management, got the call to the Big Leagues in September of 2004. After jostling for playing time over the course of the next four-plus seasons as veteran pitchers were brought into Toronto's bullpen mix, League was eventually traded to Seattle prior to the 2010 campaign as part of the Mariner's rebuilding effort. He spent last season as one of Seattle's late-inning setup men, bridging the gap between the starting and closing pitchers. But when regular closer David
Page 1 of 2 pages for this story 1 2 >
Most Recent Comment(s):