Lights, Camera…Water!
Brian Keaulana, son of Buffalo and a former city lifeguard, is the coordinator of water stunts for just about every Hollywood film and TV show shot in Hawaii
Wednesday - March 03, 2010
By
.(JavaScript must be enabled to view this email address)
E-mail this story | Print this page | Archive | RSS
|

Del.icio.us

If a Hollywood film or TV show includes Hawaii ocean scenes, Brian Keaulana is likely involved
Brian Keaulana, a champion surfer and great all-around waterman who pioneered the use of Jet Skis by lifeguards, is spending more time these days in the waters of Hollywood. By the look of his resume, it's obvious he's in high demand for his stunt work in many major productions, both in Hawaii and around the world.
He's the stunt coordinator and second-unit director alongside Greg Barnett in the now-filming Bethany Hamilton movie Soul Surfer, which stars Carrie Underwood, Helen Hunt, Anna Sophia Robb and Dennis Quaid.
He also is a stunt coordinator for Descendants, starring George Clooney which is in pre-production, works on and off for Lost as a stunt-man, and recently finished Piranha 3-D and HBO's Enlightened, for which he was a stunt coordinator.
"The movie work where I do stunts as a stuntman, stunt coordinator and stunt director pretty much takes up most of my time," says Keaulana, 48. "Every production that comes into town, I'm usually working on it."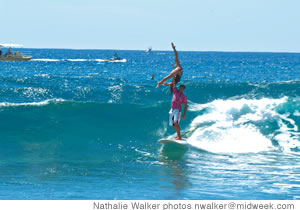 All-around waterman Brian Keaulana and Kathy Terada, the 2006 tandem surfing world champions, catch a wave at the recent Makaha Beach Buffalo Big Board Surfing Classic Feb. 15
Stunt work is his full-time job, but Keaulana has his feet wet in a lot more places than that.
He, along with Todd Bradley, founded C4 Waterman, which sells stand-up paddle surfing paddles, boards, accessories and other surfing equipment.
He also works with the Hawaiian Water Patrol, headed by Terry Ahue, offering safety and security work for private events such as the recent Eddie Aikau contest at Waimea Bay, and movie productions.
He also helps out with his parents' clothing company in Japan called Real Be Voice, and his family's annual Makaha Beach Buffalo Big Board Surfing Classic.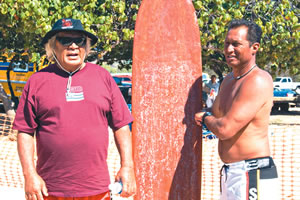 Brian with his legendary father Buffalo Keaulana at Makaha Beach
And if that's not enough, he teaches underwater self-defense and assists with risk management and assessment training to lifeguards, law enforcement and military personnel throughout the world.
But probably his most treasured job of all is that of husband to wife Nobleen and father to 17-year-old daughter Chanel "Haa" and 15-year-old son Chad.
"I always set myself up to succeed in whatever I do," says Keaulana about his life. "If I cannot succeed, then I'm not going to do it. And it's not about me, it's about we. When I work, it's a team of people. If we go into a community, instead of bringing people over into that community and hire from outside, I always try to look within the community and hire.
"For example, if we go to a surf spot, let's hire the local surfers there to be our extras rather than hire extras outside and make the place more crowded. So you kind of give back to the community as well and you gain the respect of people.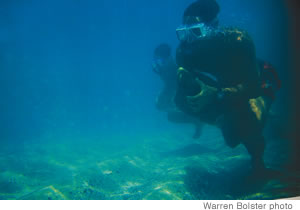 Keaulana trains by carrying big rocks underwater
"Producers who know me know that I work on a certain value system and standard, and that is having respect for the culture, having respect for the community and having respect for the environment. That is a lot more valuable to me than money."
Keaulana believes those values were instilled in him from his parents Buffalo and Leimomi. Keaulana, the oldest of six children, grew up on Makaha Beach. They lived in a two-story house where the lifeguard tower stands today. But because of high surf, the family later relocated to Waianae.
A couple of years after graduating from Waianae High in 1979, Keaulana went on to work as a part-time city lifeguard. He went full-time in 1984, was promoted to lieutenant in 1989 and then to captain in 1993.
"Keaulana's contributions to the city and county ocean safety and lifeguard services division are numerous," notes Ralph Goto, ocean safety administrator. "He and fellow lifeguards Terry Ahue, Dennis Gouveia and Melvin Puu pioneered the use of personal water craft (Jet Skis) as a legitimate piece of rescue equipment in big surf conditions in Hawaii."
In 1993, Keaulana's use of the Jet Ski for rescue was publicized when he and Earl Bungo were able to successfully save a visitor who was washed off a ledge by a huge wave at the Moi Hole on the Waianae Coast. For their efforts, Keaulana, Bungo and fellow lifeguard Craig Davidson received the Valor Award from the city Department of Parks and
Page 1 of 2 pages for this story 1 2 >
Most Recent Comment(s):