Starring Bruno Mars
He first appeared on the MidWeek cover in 1990 when he sang in Waikiki as Little Elvis, but now Bruno Mars is one of America's hottest singers and performing his own songs, including the current smash hit Nothin' On You

Wednesday - April 14, 2010
By
.(JavaScript must be enabled to view this email address)
E-mail this story | Print this page | Archive | RSS
|

Del.icio.us

He first appeared on MidWeek's cover as Little Elvis, but today Bruno Mars is a rising star with his own identity and sound
In 2002, 17-year-old Bruno Mars (Hernandez) packed up his Roosevelt High School diploma along with big dreams to have his music heard around the world, and moved to L.A.
Having performed as Little Elvis in a longstanding Waikiki show since he was 2 (which landed him on the cover of MidWeek 20 years ago) and later impersonating artists such as Michael Jackson, Mars chased the dream of becoming an artist, not just a performer.
For this born-and-raised Hawaii boy, his dreams are indeed coming true, seasoned with a little bit of destiny, triumph and hurdles along the way.
MidWeek caught up with the in-demand superstar to hear his story and fascinating rise to fame. Caller ID is a valuable asset when waiting for such important calls, but in this case it created quite a dilemma.
It's time for the 10 a.m. interview. At 10:05, a call from an (808) number rings in. Pick up and risk getting stuck on the phone when he calls? What if it's Bruno? No, it can't be him. OK, just pick up.
"Hello."
"Hey, it's Bruno Mars."
"Hey, I wasn't expecting a Hawaii number."
"Man, I've had this number since I was 16," he laughs. "Some things don't change."
"So, how have you been?" "I'm living the dream!" But if you think Mars and his global hit Nothin' On You has made him an overnight success, think again. Sure, as of last week, Nothin' On You was No. 2 on Billboard's Hot 100 list, edged out by Rihanna's Rude Boy. And it also held the No. 1 spot in Rap on Billboard's digital genre song chart, and No. 2 on iTunes Top Songs. Its video also is featured on MTV and VH1.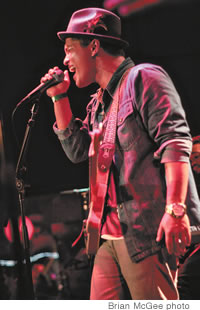 Bruno Mars transforms from performer to artist
But this colossal hit that has fans begging for more is just the cherry on top of Mars' many achievements.
What many don't know is that Mars not only is featured with B.o.B on the song, but also co-wrote and produced it with Phillip Lawrence. And, yes, ladies, it was written with a certain someone in mind.
"Every song I write has to do with a real-life experience, whether it's at the time or me back-tracking to how I felt at another moment," he explains. "So, yeah, it was about someone - let's leave it at that."
Now signed with Atlantic Records, he also co-wrote the Matisyahu song One Day, theme song of the 2010 Winter Olympics.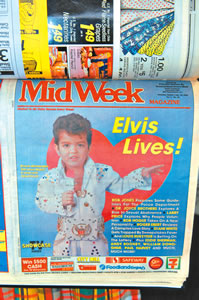 "We had the privilege of working with Matisyahu," says Mars. "We brainstormed and jammed on the piano and came up with the melody for One Day. NBC wanting it for the Winter Olympics was just the cherry on top of the cake."
He also has written songs for Cee-Lo of Gnarls Barkley, and Sean Kingston and Adam Levine of Maroon 5. And he co-wrote and is featured on the recent release Billionaire with Travie McCoy of Gym Class Heroes. This tidal wave of momentum began in February 2009, when he celebrated his first No. 1 song with Flo Rida's Right Round.
Rewind to Feb. 14, 1990, when Bruno Hernandez - aka Little Elvis - was first featured on MidWeek's cover. The 4-year-old with talent far beyond his age dazzled audiences here with his voice and dancing. Plus that cuteness factor.
At that age, he already had mastered the hip shake, the arched lip and the voice. He wasn't sure what all the lyrics meant, nor could he read them, but that didn't stop him from putting on a phenomenal show, which landed him a cameo appearance in the film Honeymoon in Vegas.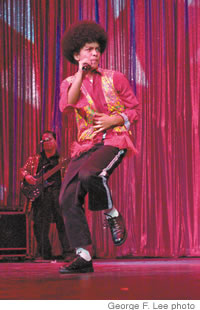 As a teen Bruno performs as Michael Jackson in the Aloha Las Vegas Revue at the Waikiki Beachcomber Hotel
"Performing from such a young age just got me so comfortable on stage," says Mars. "Growing up performing - that was normal for me. Everyone in my family sings, plays instruments. It's what we do."
Encouraged by his parents Pete and Bernadette "Bernie" Hernandez, and also guided by his uncle John Valentine, Bruno oozed star potential. "No one believes in me more than my mom, and I owe it to them," he admits.
Mom was quoted in the MidWeek story that, "He knows he cannot get away with skipping his three-hour nap, or his mother will not allow him to go on stage."
He's grown up a bit since those nap days, although he definitely admits to needing some sleep with a schedule that often has him in the studios until 5 a.m.:
"It's a sacrifice that I've had to make. But now is the time for me to focus so I can be where I want to be."
It's this go-getter attitude that Mars says his father instilled in him. "It's my dad and his Brooklyn hustler mentality," he jokes.
One of six children (there's brother Eric and sisters Jaime, Tiara, Tahiti and Presley), Mars and his family moved around Oahu, living in Pearl City, Hawaii Kai, Palolo and finally settling into a home in Makiki.
"The name Bruno came from baby times," says big sister Jaime. "Bruno was always so confident, independent, really strong-willed and kind of a brute - hence the name Bruno, and it kind of just stuck."
Mars segued from his role as Little Elvis, well, when he grew out of the role and began performing as a Michael Jackson impersonator - for which he also earned rave reviews.
He extended his musical repertoire when he and Roosevelt schoolmates Joey Kaalekahi, Dwayne Andres and Reid Kobashigawa formed The School Boys. They did classic oldies by the Isley Brothers and The Temptations, earning an ongoing gig at Ilikai Hotel alongside his family's band, Love Notes.
"I've been performing with my family in Hawaii forever, so when I wanted to really pursue this artist thing I moved out to L.A. and struggled and struggled. As soon as I moved up to L.A. I got signed
Page 1 of 2 pages for this story 1 2 >
Most Recent Comment(s):