Well Done, Sir!
It's a sunny morning in Manoa, and we're at the University of Hawaii Law School to interview a legend.

Wednesday - February 10, 2010
By
.(JavaScript must be enabled to view this email address)
E-mail this story | Print this page | Archive | RSS
|

Del.icio.us

It's a sunny morning in Manoa, and we're at the University of Hawaii Law School to interview a legend. We're anxious and nervous as a distinguished gentleman of slight built enters the office. He's hunched over a bit but ably supported by his grandson, who escorts him armin-arm.
Suddenly the stilted atmosphere of anonymity is pierced by a jovial, friendly greeting. "Pehea 'oe?" the voice heralds.
Goodness, we think. If we don't give him the right response - and in Hawaiian - we're off to a bad start.
"Maika'i no," we answer. We are relieved as "CJ" William S. Richardson embraces us to acknowledge the proper response to his "how are you?" greeting.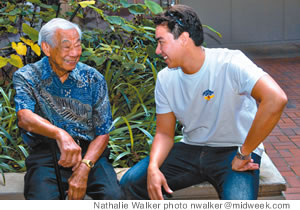 CJ shares a laugh at the UH law school with grandson Noah Phillips
That was the easy part. We reflect on the magnitude of the story we must tell. Here's a man whose phenomenal reputation and legacy precedes him. He's a hero to the Hawaiian people, a big wheel in governmental and political circles, and a brilliant legal mind responsible for our state's most significant land-use and natural resources decisions.
This is like having an audience with an ali'i.
But one soon learns that "CJ" - the affectionate moniker for "Chief Justice" - doesn't stand on ceremony and fussy formality. Soon as he hears that we both graduated from Roosevelt High School, he stands up and breaks into song.
"'Tis with hearts full of pride, dear alma mater, we rise and sing to thee ..."
We join him in a duet, "... and pledge to keep thy colors high, through all the years to be!"
Richardson, 90, has not sung his high school alma mater for more than seven decades, but he recalls the lyrics down to the final "All hail, hail, hail."
We are amazed. He gives us a high-five and smiles.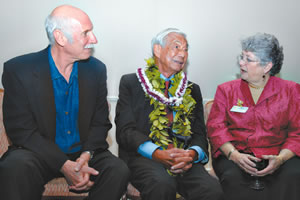 With law school dean Avi Soider and UH-Manoa president M.R.C. Greenwood
As we begin the interview, we realize this man has been breaking down barriers most of his life. Not that he is a destructive person. On the contrary.
But he has done more to deal with environmental, cultural and educational obstructions than anyone else in Hawaii. In that regard, as one admirer puts it, "he is a rock star. "
It's not very often that a politician, educational advocate and ordinary kupuna earns rock star status, but Richardson fits the billing.
He has many fans. More than 900 guests showed up at his 90th birthday party in December in Waikiki. Family, friends, corporate bigwigs, government officials, UH law students and alumni, educators and media representatives were there.
It is obvious that his influence as a community leader, family man and all-around nice guy is indelible. Although retired from an illustrious career in government, law and business, Richardson's leadership, wisdom and validation are still sought and valued today.
How has he earned this level of esteem? How has this local boy raised by a working class family in modest Kaimuki gained such stature and respect in the state?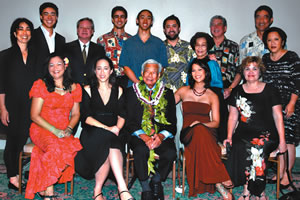 The Richardson ohana turned out for CJ's 90th birthday: (standing, from left) daughter Barbara Richardson, Noah Phillips, Gary Phillips, Peter Phillips, Shaw Richardson, Buddy Wolfe, Helen Richardson, Stuart Wolfe, son Bill Richardson, daughter Corinne Wolfe. (front) Leslie Helppie, Amy Wolfe, CJ, Mahealani Richardson and Char Dudek
Why is his name etched in concrete at the University of Hawaii School of Law as a harbinger of its hopeful future?
Richardson's imprint on our community is deep. He was chairman of the Hawaii Democratic Party from 1956 to 1962, then served as lieutenant governor under John A. Burns. He was chief justice of the Hawaii State Supreme Court from 1966 to 1982, then became a trustee of Bishop Estate.
But it is his landmark judicial decisions as chief justice that are defining moments of his career.
Thanks to his leadership, we today enjoy public access to all beaches. This breakthrough judgment came from a native who, as a youth, was denied access through a private resort to Waikiki Beach.
Thanks to Richardson, water rights in agricultural lands are deemed public and not restricted to one landowner over another.
Thanks to Richardson, new lands created by lava flows rightfully belong to the state and are public.
In rendering these landmark decisions, Richardson says he "balanced the rules of the past to conform with the state of society today."
That seems simple and straight-forward. But in the complex legal process of dissecting truths, interpreting data, and rendering
Page 1 of 2 pages for this story 1 2 >
Most Recent Comment(s):