Deep Stuff
Whether it's researching marine life in the darkest depths of the world's seas, invasive species in the Antarctic or in Hawaii's mangroves, UH's Craig Smith goes deep into his subjects
Wednesday - April 20, 2011
By Chad Pata
E-mail this story | Print this page | Archive | RSS
|

Del.icio.us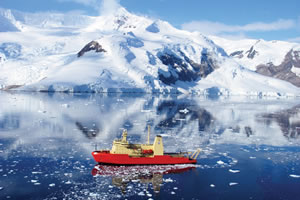 Smith's research vessel in Antarctica. Photos courtesy Craig Smithn
Two of the biggest challenges scientists face - and they're quite different - are trying to make new discoveries and battling major industries to help in the conservation of the environment.
Then there's Craig Smith of UH's School of Ocean and Earth Science and Technology. He makes hundreds of new discoveries on every mission he takes and is two steps ahead of the companies that want to exploit his area of expertise, the abyssal ocean - the deep, deep sea.
"It's the largest habitat on earth and it's the most poorly known; it is a huge frontier," says Smith, who has been at UH for 23 years. "It has a really high diversity of animals and a lot of mineral resources."
He has just finished a 10-year project named the Census of Marine Life. Its purpose was to evaluate the biodiversity of all marine life in the Earth's oceans with his group focused on the depths from 10,000 to 20,000 feet down. This area for many years was believed to be a desert wasteland with water pressure being too great and temperatures too cold to sustain life.
But thanks to modern technology and remotely operated vehicles, Smith and his team are now sampling regularly what was once as distant as the moon as far as scientific knowledge was concerned.
"The deep sea is really, really poorly sampled. It covers half the surface of the earth and we have sampled maybe a few football fields in area," says Smith, who got his start at the Scripps Institution of Oceanography in San Diego in the 1980s.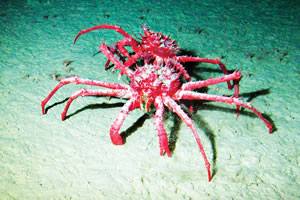 Invasive stone crabs are wreaking havoc in the Antarctic
"We know we have so much more to sample, because every sample we bring up has more than 90 percent species that are new to science - they have never been described before. So (some scientists) talk about 'it is so exciting, we just found a new species.' For us we don't have enough manpower to describe all the new species we find. It will take many decades."
During the census Smith's team made 22 cruises taking samples all over the planet, and while they described 500 new species, they literally have tens of thousands more still needing names. Sampling from such depths is difficult because anything taken from below 6,500 feet cannot survive the ascent to the surface.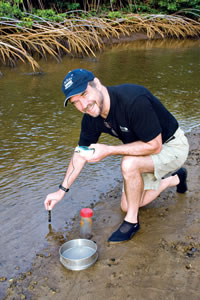 Smith takes a sample of the mud in Kaneohe's mangroves. Nathalie Walker photo

.(JavaScript must be enabled to view this email address)
The problem comes not from the change in pressure - such a trip would explode mammals and many fish - but animals at those depths contain no gas in their bodies, allowing their body shape to survive the pressure. The problem comes rather from the temperature rising as they approach the surface. These creatures have survived for millions of years in an environment that is pitch black with temperatures of 38 degrees F.
The technological advances that have allowed Smith's discoveries also now allow industry to harvest the resources that were heretofore unreachable. The abyssal ocean floor is literally paved with manganese nodules, which are potato-shaped rocks rich with copper and nickel.
Because of the depth and cost of mining them, they have laid there undisturbed for millennia, but with the burgeoning Indian and Chinese markets hungry for such natural resources, all that is due to change.
"In the next 10 years or so countries are going to start vacuuming up huge sections of the sea floor, sucking up these nodules," says Smith. "This is going to have a very big environmental impact in an area that is very sensitive. It is a very stable environment, but very fragile. It is
Page 1 of 2 pages for this story 1 2 >
Most Recent Comment(s):