The PahinuiWay
Cyril Pahinui, son of the legendary Gabby Pahinui, carries on a family tradition, playing Hawaiian music all over the world. Now he's planning the big Gabby Waimanalo Kanikapila to raise funds to build Hawaii Museum of Music and Dance. Pops would be pleased

Wednesday - June 30, 2010
By
.(JavaScript must be enabled to view this email address)
E-mail this story | Print this page | Archive | RSS
|

Del.icio.us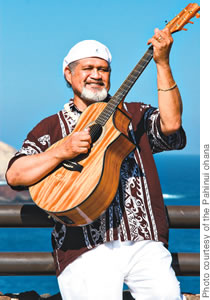 Cyril Pahinui: "Dad's a hard act to live up to'
The son of the legendary Gabby Pahinui carries on a family tradition with a Waimanalo kanikapila to raise funds for a planned Hawaii Museum of Music and Dance
Cyril Pahinui's life is just one big, continuous jam session. From the time he first picked up an ukulele at age 5, he has played Hawaiian music with "the best of the best." As the son of legendary Hawaiian musician Gabby "Pops" Pahinui, it isn't easy living up to the billing.
Cyril admits, "Dad's a hard act to follow."
Yet the stature and regard Cyril has among musicians and legions of fans today are monumental. As a slack-key guitarist, he is an extension of his famous dad's musical brand and is dedicated to keeping Hawaiian music "Hawaiian" in its purest, most traditional sense.
That's not easy in a diversified society where music of many styles and ethnicities vie for the ears and hearts of listeners. From rock 'n' roll to Jawaiian, musical tastes can be fickle and fleeting at the flip of a radio dial - make that an iPod download.
In the din of this chaotic, competitive environment comes a significant musical event on Saturday, Aug. 7, in Waimanalo that will cross all divides in musical tastes. This event - free to the public - reaches into the soul of Islanders to remind us that Hawaii has a musical identity that is unique in the world.
That's why you won't want to miss the "Gabby Pahinui Waimanalo Kanikapila" Aug. 7 at Waimanalo Park Pavilion. It's an all-day affair, 10 a.m. to 5 p.m., featuring more than 100 Hawaiian music performers in the backyard jam session style established by Gabby Pahinui years ago.
Cyril, who is organizing the event with wife Chelle Pahinui, describes it as "a gathering of musicians to perform and connect with one another and recognize Waimanalo's contribution to Hawaii's music."
The Pahinui ohana is getting kokua from Hula Supply Center Foundation and Na'alehu Park. The event is a fundraiser for the Hawaii Museum of Music and Dance.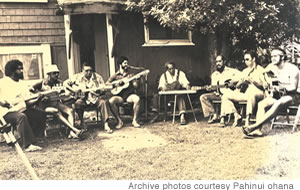 An iconic photo of a backyard kanikapila in Waimanalo with some of the greats (from left), Martin Pahinui, Phil Pahinui, Atta Isaacs, Palani Vaughan, Gabby Pahinui, Bla Pahinui, Peter Moon and Cyril Pahinui
Families and foundations of local musicians are pooling resources to raise $2 million for the planning and design of a future facility. The Pahinuis are donating proceeds from the sale of specially designed T-shirts to bring in the first $1 million.
"We all miss the kanikapila sessions of our childhood," says Cyril. "During my dad's life, weekends at our home in Waimanalo were a continuous jam session. Dozens of musicians, both young and old, came by to jam with the masters."
The "masters" were guitarists Leland "Atta" Isaac, Sonny Chillingworth and Ray Kane, along with David "Feet" Rogers, Joe Marshall, ukulele virtuoso Peter Moon, Jesse Kalima, Genoa Keawe and Palani Vaughan, among others.
"With a pot of stew and rice always on the stove, our home became the place for rejuvenating Hawaii's music traditions," Cyril says.
As Gabby's fame grew, attendance at the weekend jam sessions mushroomed - sometimes hosting 100 or more musicians and fans. The sessions would begin early Friday morning and continue straight through to Monday morning.
Following Gabby's death in 1980, kanikapila (let's play music) sessions moved to Waimanalo Park Pavilion, where the city has a plaque commemorating the slack key folk hero.
It is here that folks will gather Aug. 7 to revive the Pahinui tradition. Bring stew and rice or a picnic basket and stay a while to hear Hawaiian slack-key guitar, ukulele, steel guitar and falsetto singing in laid-back island style.
Among the entertainers expected are Palani Vaughan and the King's Own, Makana, Pahinui Hawaiian Band, Bla Pahinui and Hukipau, Nikki Hines and Friends, Aaron Mahi, George Kuo, Martin Pahinui, Greg Sardinha and Pookela, Jerry Santos, Kalima Ohana, Hilo One, Dennis Kamakahi, Kawika Kahiapo, Ben Kaili and Nobriga Ohana.
Page 1 of 2 pages for this story 1 2 >
Most Recent Comment(s):