More Than Just '80s Rock
The most successful recording duo in music history, Daryl Hall and John Oates rock Blaisdell Arena in a concert on March 5

Wednesday - March 02, 2011
By
.(JavaScript must be enabled to view this email address)
E-mail this story | Print this page | Archive | RSS
|

Del.icio.us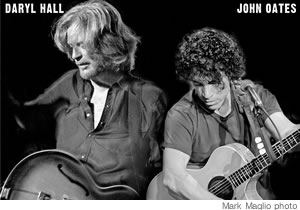 Their musical bond and mutual respect have held Daryl Hall and John Oates together all these years
Daryl Hall and John Oates will rock Blaisdell Arena in a concert on March 5
Hall and Oates are not who you think. Yes, Daryl Hall and John Oates penned some of the most memorable pop hits in the early '80s and were MTV mainstays, possessing the right look and effective hooks the fledgling network was banking on. But to pigeonhole the pair as nothing more than yet another set of highly coiffed crooners with more visual appeal than musical chops would be a grave mistake.
The most successful recording duo in music history got its start in the Philadelphia soul scene, recorded their first hit nearly a decade before becoming international pop stars, and have maintained a unique individuality that has allowed them to weather changing music styles and personal growth.
Their independence belies their long history of collaboration. Hall and Oates are, in fact, two individuals working collectively and not a true duo in the sense of early Lennon and McCartney. This was by design, and is a big reason why, after first collaborating as freshmen at Temple University in the early 1970s, they've managed to record 26 albums over four decades without suffering through the all-too-typical Behind the Music avalanche of ego and drug addiction.
"We are very different people, but what holds us together is our musical bond and our roots," says the 62-year-old Oates. "Daryl was very adamant from the beginning that we should be two individuals working together. I understand where he was coming from. He doesn't think of himself as part of a duo. He thinks of himself as Daryl Hall who works with John Oates, and vice versa. That respect has allowed us to explore individual pursuits without getting into each other's way, while understanding that Hall and Oates is a very important part of our lives."
That independent streak was evident from an early age and allowed the pair to spurn the biggest hit makers in their hometown. Hall began working with legendary Philadelphia producers and songwriters Kenny Gamble and Leon Huff as a teenage member of the Temptones, his first group. The association with the Hall of Fame partnership didn't last as Hall, then with Oates, turned down an offer to sign a record deal, deciding to strike out on their own. They were soon signed by another industry heavyweight, Atlantic Records founder and president Ahmet Ertegan. They were barely into their 20s.
"Kenny Gamble came to me and asked if I wanted to be part of Philadelphia International and be a song-writer and artist. We declined, because we were going to move to New York and go our own way," says Hall. "We really had a lot of confidence in the uniqueness of our take on it (the music)."
The pair is stopping by Blaisdell Arena for a concert on March 5 following their tour of Japan. While the songs themselves will be readily familiar, the arrangements have evolved.
"I'm a singer and a song-writer, but the song itself is a structure, whether I write it myself, or the few I've
Page 1 of 2 pages for this story 1 2 >
Most Recent Comment(s):