The 2 Million Dollar Man
Dennis Francis, president and publisher of the Star-Advertiser and MidWeek, created a program that has raised $2 million for Ronald McDonald House and become a national model. RMH says thank you with a dinner in his honor Sunday
Wednesday - November 16, 2011
E-mail this story | Print this page | Archive | RSS
|

Del.icio.us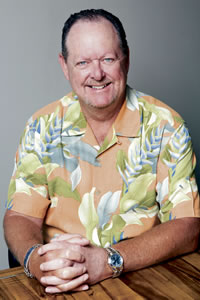 Dennis Francis, president and publisher of the Star-Advertiser and MidWeek, created a program that has raised $2 million for Ronald McDonald House and become a national model. RMH says thank you with a dinner in his honor Sunday
Dennis Francis wasn't allowed to have a paper route as a youth because his mother didn't think he was responsible enough. He was too easily distracted by his passion for sports.
Forty years later, Francis not only controls most of the newspaper subscriptions in the state, but also guides the destiny of Hawaii's largest newsgathering organization. Obviously his sense of responsibility improved with age. As for spending time with his buddies and enjoying sports, especially now with golf well, that hasn't changed much.
Francis's sense of responsibility, particularly his strategic business sense aligned with community advocacy, will be recognized at the annual "Share-a-Night Gala" on Sunday at Sheraton Waikiki, presented by Ronald McDonald House Charities of Hawaii.
Francis, president of Oahu Publications Inc. (OPI), MidWeek's parent company, and publisher of the Honolulu StarAdvertiser, has been a hero and supporter of Ronald McDonald House for more than 20 years. He created an innovative and groundbreaking program that put newspapers in every single McDonald's restaurant, with a portion of sales revenues donated to Ronald McDonald House Charities. The concept was adopted nationally after a successful launch in the Islands. The partnership has generated $2 million to date in Hawaii.
"Pretty amazing," says RMHC executive director Jerri Chong, who noted that donations continued without interruption even while the local papers were going through organizational changes and ownership transitions. "Dennis's word is his bond," she says.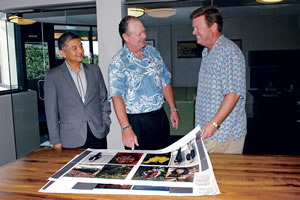 MidWeek publisher Ron Nagasawa, Dennis Francis and OPI senior VP of marketing Dave Kennedy discuss final plans for a magazine layout. Nathalie Walker photo |

.(JavaScript must be enabled to view this email address)
When a charity helps 500 families a year, that means a lot. Particularly in times when government and private funding are dwindling. To date, 10,000 families and more than 25,000 people have called Ronald McDonald House home, some for just a few days, others for months, according to Chong. The financial resources from newspaper sales at McDonald's restaurants have sustained a critical community service, she adds.
We're loving it. Makes those McCafe brews and McMuffins even more tasty.
But it's not the meal deal that brings the Honolulu Star-Advertiser and its driven publisher into the spotlight.
No, it's the real deal.
But getting Francis to talk about himself and the back-story of his role in merging two daily newspapers is not easy.
"I've shied away from interviews," Francis says, "because I never felt comfortable with what might appear to be self-serving."
False modesty? That's not Francis' style, co-workers will tell you. This is a seriousminded executive who is a man of few words, even in that world of word merchants in which he dwells. So it is with some apprehension that we meet with Francis in his Restaurant Row fifth floor office. But we find him relaxed and chatty, perhaps because he just returned from a vacation in his hometown states, Kentucky where he was born and Ohio where he was raised. (Yes, he is a big Ohio State Buckeyes and Kentucky basketball fan.)
It was well-deserved down time, we thought, for someone who recently wrote one of the toughest chapters in Hawaii's long newspaper history. It is Francis who administered the strategic plan resulting in OPI's purchase of the Honolulu Advertiser in June 2010.
It was a game-changing, landmark deal that created a print media juggernaut. The OPI group includes the Star-Advertiser, separate MidWeeks on Oahu and Kauai (including four regional MidWeek Islanders on Oahu), HI Luxury magazine (part of a glossy magazine division that includes a quarterly Kailua magazine and another for the UH booster club Ahahui Koa Anuenue,
Page 1 of 2 pages for this story 1 2 >
Most Recent Comment(s):