Saluting 100 Years Of Scouting
Friends since their school days, lifelong Boy Scout John Henry Felix asked Dr. Lawrence Tseu to become an honorary Scout. Too poor to join as a boy, Tseu responded by giving Hawaii Scouting $1 million
Wednesday - August 18, 2010
By Chad Pata
E-mail this story | Print this page | Archive | RSS
|

Del.icio.us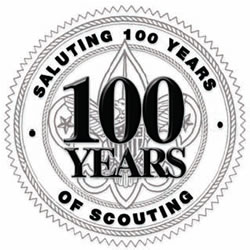 As Boy Scouts celebrate their Hawaii centennial, a former poor kid from Kalihi who couldn't afford to join provides a much-needed $1 million
As a boy, Dr. Larry Tseu dreamed of being a Boy Scout. Yet despite holding down three jobs as a young man, the economic realities of the Great Depression precluded him from spending the loose change it would have taken to buy the Boy Scout uniform, as all his earnings went to support the family.
Fast forward 70 years and Tseu has finally received his uniform and scarf as the honorary Scout for the Boy Scouts Centennial and the penniless Chinese kid from Kalihi in turn donated $1 million to the Aloha Council of the Scouts.
The donation was made in the name of Dr. Larry and his late wife, BoHing Tseu, and will be used to refurbish the aquatic center at the 40-year-old Camp Pupukea that sits on 65 acres of Oahu's North Shore. The facilities serve to teach young men everything from scuba and snorkeling to life-saving techniques.
Those techniques recently came to bear in the case of 15-year-old Scout Elias Yeazus, who found his 3-year-old sister Rahel on the bottom of their pool. Using the knowledge he learned from Scouting, he revived his sister even before the paramedics arrived on the scene.
This story, along with the severely degraded conditions at the camp and his close friendship with lifetime scout and HMAA CEO John Henry Felix, led Tseu to make this donation to improve the lives of so many youths here in the Islands.
"You need somebody to jump-start a project," says Tseu, who is perpetually smiling. "Once you do that, you get the hype, and people start coming out and get it rolling."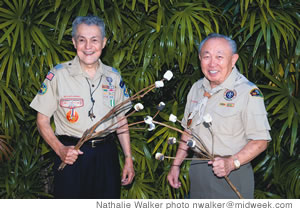 Nothing says Scouting quite like toasting marshmallows for Felix and Tseu
His hopes are that this will start an avalanche of donations from the community to help out the center. The funds he has given are to be used to refinish the pool and build a new pool house and technology center. The building will bear his and his wife's names in honor of their generosity.
But life was not always so plush. Tseu grew up poor in Kalihi and by the age of 7 was shining shoes on the hardscrabble streets of Honolulu, where he met a Portuguese-Hawaiian kid down on his luck from Papakolea. That kid was Felix.
Tseu showed the older Felix all the ways to make money downtown, ranging from delivering newspapers to diving for coins thrown from the visiting cruise ships on "Boat Days."
They both participated in Cub Scouts, but Tseu had to drop out once they reached the Boy Scout level as the uniforms, as inexpensive as they were, still were too big an investment for a family living hand-to-mouth.
And just like that, the Scouts were a thing of the past until Felix and his right-hand woman Kitty Lagareta approached Tseu about being an honorary Scout at this year's centennial celebration.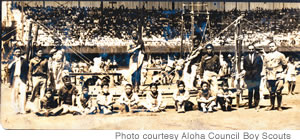 Hawaii Boy Scouts gather for the 1930 Makahiki at old Honolulu Stadium
"We approached him about the center, knowing how much he cares about kids, and he immediately said yes," says Felix of his old friend.
They pounded out the details in just under a fortnight and Tseu couldn't look more proud sporting the tan button-up he had waited nearly three-quarters of a century to don.
"Boy Scouting to me is what builds leadership: value, honor and responsibility," says Tseu, "not just to yourself but to the community. It's a good foundation for young boys."
As good a cause as Scouting is, one has to wonder at such amazing generosity from a man who just last year donated $720,000 to breast cancer research. But Tseu immediately defers to his wife for his philanthropic lean.
"Before my wife passed away, she said, 'Honey, when I die, will I just leave ashes and smoke.'I said no, not necessarily," says Tseu, who jokingly remembers he fell in love with his wife "at first fright."
"I could leave a legacy for you, and she said, 'No, leave a legacy for us. Money in the bank does no good, it doesn't bring any enjoyment, and it doesn't bring any satisfaction. You have to share it, give it away and do good with it.' Being a good husband, I am trying to keep that promise! And this way the kids have less to fight over when I am gone."
The shoeshine boy had but one true love, and his heart chose well for him. BoHing was the daughter of not only the governor of Canton but also the general in charge of the Air Force
Page 1 of 2 pages for this story 1 2 >
Most Recent Comment(s):