Taking the Helm at HPU
With president Chatt Wright ready to retire after more than 40 years, HPU finds the perfect successor in Dr. Geoffrey Bannister, pictured here with wife Jerri

Wednesday - January 19, 2011
By
.(JavaScript must be enabled to view this email address)
E-mail this story | Print this page | Archive | RSS
|

Del.icio.us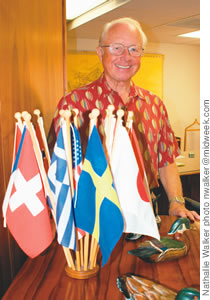 Under Chatt Wright's leadership, HPU established a global network, with students attending from 100 countries
Hawaii is going through a season of leadership change. We have a new governor, mayor, University of Hawaii president and, within six months, there will be another significant passing of the baton.
Longtime Hawaii Pacific University President Chatt Wright will be succeeded by Geoffrey Bannister, Ph.D., to lead Hawaii's largest private university. It's time to get used to a new name and face.
However, with the exception of a beard on his successor, Wright claims HPU's face of leadership is not changing that much. That's because HPU has seemingly found the "perfect match" for the school's mission and vision.
This doesn't happen often. Leadership transition in organizations can mean a new direction or course correction. Wright has built such a solid foundation of purpose and branding for HPU that there is a clear definition of who and what fits the mold.
Out of hundreds who expressed interest in HPU's top-level job, 75 applicants formally filed for the post. The list was narrowed to three finalists. HPU's selection committee and board of trustees last week named Bannister, 65, the right person.
Wright, 69, who announced his retirement over a year ago, will step down June 30.
Charles Sted, chairman of the board of trustees, lauds Wright's achievement of "building HPU from a tiny program to one of the largest, most significant organizations in the state."
He adds, "Chatt realizes the importance of educating for global citizenship, and by bringing together people from all around the world, he has created a global network of communications, social relationships and future leaders."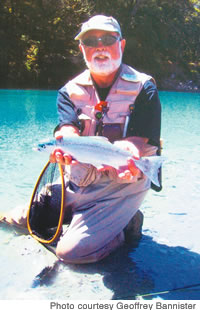 Like Chatt Wright, Bannister is an avid fisherman. Here, he's with a rainbow trout he caught in New Zealand, where he grew up
Bannister admits his predecessor, considered "the father of Hawaii Pacific University," is a hard act to follow.
One is the pillar of today. The other is the promise of tomorrow.
While each paved separate paths to success, we found much accord between the two men - right down to their love of fishing. We baited them with the same questions and pulled in an ocean of wisdom.
What attracted you to this job?
Wright: My move from California to Hawaii in the '60s was a whim. I had several friends who had settled here, and thought I'd check it out. It's where the Occident meets the Orient. I fell in love with Hawaii and stayed. After a series of "serious jobs" - president-CEO of Queen's Health Systems, administrator of manpower for the City & County of Honolulu, economist for the state of Hawaii - I joined Hawaii Pacific as its founding business administration dean in 1972. I was 31 years old at the time.
Hawaii Pacific was a two-room college with 57 students and an annual budget of $200,000. I got a sense of the opportunity to build something here, and in 1976 I was named president.
Since that time, HPU has grown to 9,000 students from 100 countries, with an annual budget of $120 million.
Bannister: In the 1800s, U.S. Secretary of State John Hay projected that the Pacific would be the next center of civilization. He was a little early in making that statement, but it is true now.
HPU's positioning, both geographically and scholastically, as the U.S. enters the Pacific Century, is significant. Hawaii has the potential for great growth as a state, and it needs both a great private university as well as a public one to reach
Page 1 of 2 pages for this story 1 2 >
Most Recent Comment(s):