Taking the Big Out of the Big C
Dr. Wael ElShamy of the Cancer Research Center of Hawaii is working to make the most deadly cancers - including breast cancer - less dangerous.
Wednesday - January 12, 2011
By Chad Pata
E-mail this story | Print this page | Archive | RSS
|

Del.icio.us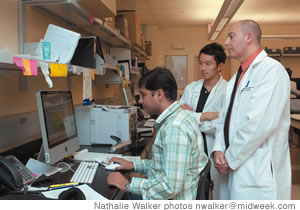 Saurabh Saxena (seated), Robert Thach and Dr. ElShamy work to develop primers to clone a gene
One of the world's foremost cancer researchers is breaking new ground with the deadliest cancers in Hawaii
When the American Cancer Society and Dr. Lawrence and BoHing Tseu awarded Dr. Wael ElShamy a $720,000 grant to research breast cancer, it was not just because of the strength of his research, but for the passion he has for the cause.
"It is 2010, we are going to Mars, people should not still be dying of cancer," says ElShamy, who hails originally from Egypt and moved to the U.S. in 1998. "Come on, now, we are doing so many things. If we can't cure cancer, we should at least stop people from dying from it. That's how I feel."
Breast cancer has always been paramount in his mind, and he has four very big reasons for that: his wife Iris Marie and three daughters Vanessa (15), Roxanne (13) and Nadeene (12).
"The odds are against me," says ElShamy, who has been with the Cancer Research Center of Hawaii since 2008. "I have 25 percent chance that something will happen to one of my four, and I lie down at night thinking about that."
He made the move to Hawaii at the behest of center director Dr. Michele Carbone because of the very aggressive breast cancer type that is prevalent in the Islands. The move made sense for him for two reasons: The Chicago weather was really hard on his arthritis and he wants to be where he is most needed.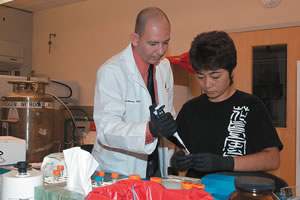 Post-doctoral researcher Mayumi Jijiwa verifies a cloning with Dr. ElShamy
"I wanted to work on these aggressive ones (cancers) because these are the ones that kill," says ElShamy.
Cancer is behind only heart disease as a top killer among Americans, with breast cancer accounting for 32 percent of the cases among women. Breast cancer claims an average of 40,000 lives a year nationwide.
"You look at the number of people in Hawaii alone diagnosed with cancer in the past 10 years and it would fill Aloha Stadium," says Jackie Young, chief staff officer with the American Cancer Society. "We've all got to work on it together, 'cause we can't do it alone."
The ACS is the No. 1 private provider of cancer research in the U.S., providing more than $3 billion since 1946, with $140 million in funding last year alone. The staff likes to focus its energies on smaller researchers with great ideas, such as ElShamy, and has a pretty good eye for talent, as 44 of its backed researchers have gone on to win the Nobel Prize.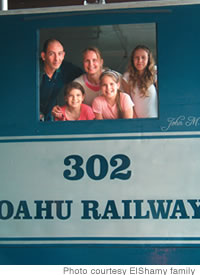 Dr. ElShamy's four big reasons to find a breast cancer cure: wife Iris Marie and daughters (from left) Nadeene, Roxanne and Vanessa
The ACS feels very strongly about ElShamy's theories, as do his fellow scientists.
"He had to go through a screening process, peer reviews - it's very stringent," says Young, a 12-year breast cancer survivor. "When I saw his positive reviews, I thought, we have to fund him, we absolutely have to fund him, and that made it easy to go out into the community and ask for funds."
The donation came in one fell swoop from local philanthropist Tseu, whose own wife suffered from breast cancer. An oversize version of that check now resides on ElShamy's wall as testament to Tseu's generosity.
ElShamy's idea, while dizzyingly complex in its execution, is at its roots a remarkably simple and logical theory. He came to it while working on neurobiology under Dr. David Livingston at Harvard University.
"I looked at neurobiology, as in brain development and cancer development, as two sides of one coin. That was my idea," says ElShamy. "In all of our brains we never regenerate cells; on the other hand, if you insult any other epithelial cells in the body, they can transform and start a tumor. So what is it about neurons that makes them never transform? I want to learn from one to help the other."
He theorized that if he could somehow learn why brain cells won't grow back, he could somehow train the cancer cells in the same way. This is very important in breast cancer because though it claims thousands of lives each year, 95 percent of those lives are lost because of the metastization - the spreading of the cancer to other organs - and not to the original cancer itself.
ElShamy believes if he stops the metastization process he can help save thousands of lives, but there are miles to go between a theory and a cure, and the road is a wandering one.
"In research, it is not about asking questions, it is about
Page 1 of 2 pages for this story 1 2 >
Most Recent Comment(s):