Never Grow Old
(from left) Michael Town, Jackie Young, Wally Amos and Patti Lyons are among the recipients of this year's Forever Young awards, which go to folks over age 65 who continues to be active contributors to our Island home.

Wednesday - September 29, 2010
By
.(JavaScript must be enabled to view this email address)
E-mail this story | Print this page | Archive | RSS
|

Del.icio.us
This year's Forever Young honorees are living proof that age is just a number
Age is an issue of mind over matter.
If you don't mind, it doesn't matter. -Mark Twain
What has happened to the institution of hometown heroes and role models? Duke Kahanamoku and King Kamehameha are gone, and that prominent Punahou grad in the White House is suffering from low popularity ratings.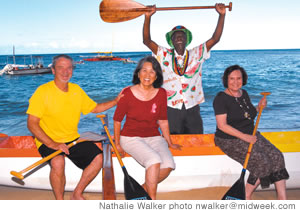 For all they've achieved, this year's Forever Young winners still have big plans and goals: Michael Town, Jackie Young, Wally Amos and Patti Lyons
Have we no prototypes of successful living to emulate?
Well, lift your head up high and take a walk in the sun with dignity because the fair city of Honolulu has several folks who are admirable role models for our young people. It seems we need look no farther than our own neighborhoods and community organizations for inspiring folk heroes.
This elite group is known as the Honolulu Forever Young award winners. Each year about this time, the City & County of Honolulu restores our faith in local heroes by honoring six people who are model citizens.
The annual Honolulu Forever Young awards lauds individuals 65 or older who exemplify successful living. Award recipients are cited for cumulative success of their careers, contributions to our community through mentoring, philanthropy and volunteerism, as well as healthy lifestyles.
As acting mayor Kirk Caldwell puts it, "These individuals are living life to the fullest, and remind us that reaching age 65 need not automatically bring thoughts of retirement. It can instead be a prime time to pursue new interests and explore new challenges, as epitomized by our honorees."
The six winners of the 2010 Honolulu Forever Young award represent more than 430 years of life experiences and lessons. Each has pearls of wisdom for the younger generation and priceless reflections of what motivates them to serve the public interest.
The city will applaud them Oct. 6 at an awards luncheon at Hawaii Prince Hotel. Call 768-7760 for reservations.
We meet the winners early one Monday morning to take a group photo in an outrigger canoe on Waikiki Beach. The symbolism does not elude them.
Life is a journey, they admit, and navigating the waters of personal and professional challenges takes steering a purposeful course.
Here's a closer look at each honoree whose achievements and attitude are well-aligned.
Wally Amos, 74, CEO, Chip and Cookie
Achievements: Opened his first cookie store called Famous Amos in Hollywood 35 years ago. Uses his well-known name to support educational causes and serves on the boards of the National Center for Family Literacy, Read to Me
Page 1 of 2 pages for this story 1 2 >
Most Recent Comment(s):