Smart Cookies
It's a lot more than just selling cookies. Led by CEO Gail Hannemann, the Girls Scouts of Hawaii are on the move

Wednesday - May 04, 2011
By
.(JavaScript must be enabled to view this email address)
E-mail this story | Print this page | Archive | RSS
|

Del.icio.us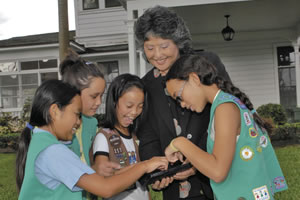 (from left) Robyn Shimoda, Tiare Rhoden, Qellsy Villanueva, Gail Hannemann and Kassidy Villanueva. Nathalie Walker photos

.(JavaScript must be enabled to view this email address)
Girl Scouts of Hawaii is on the move, led by CEO Gail Hannemann, who is one smart cookie
Girl Scouts of Hawaii CEO Gail Mukaihata Hannemann has a recipe for success that cannot fail. Ingredients call for equal parts of courage, confidence and character. Seasoned with innovation and individuality, the mix should rise to the top.
Bit too metaphorical for you? Well, stay with us because this story has a tasty moral that's palatable for all. You don't have to be a Girl Scout to understand it. And we promise, it's not just another half-baked idea.
When most of us think about Girl Scouts, we think about those yummy cookies you buy once a year. A spirited, motivated youngster in a green vest adorned with merit badges approaches you at a store-front stand and asks if you'll support her fundraising drive.
It's hard to resist. You recall your own upbringing and impressionable years as a child, and compassion gets the best of you. The transaction results in, not just one, but several boxes of Girl Scout cookies in your shopping cart.
"It's for a good cause," you say as you take a bite of Thin Mints, then reach in the package for those delicious Samoas.
If it satisfies your taste buds, it should also touch your civic consciousness. You are supporting the Girl Scout mission of developing entrepreneurial and leadership qualities in young women.
Today's cookie hawkers are tomorrow's bosses.
To underscore that mission, Girl Scouts observes "Priceless" Day Saturday, May 7, 8:30 a.m. to 3 p.m. at Ala Moana Hotel. It marks another year of phenomenal cookie sales and the grand opening of new headquarters.
Guests include Melinda Carroll presenting a new song, Ignite, and Maya Soetoro-Ng (whose daughter is a Daisy scout) reading her new children's book, Ladder to the Moon. Internationally renowned dance studio Dance Exchange will enliven a leadership workshop.
"Girl Scouts of Hawaii is on the move in more ways than one," says Hannemann. "Not only are we moving ahead with innovative leadership development programming for girls across the state, but we are literally moving our offices this month. Last October, we agreed to sell our beloved Girl Scout hale (420 Wyllie St. in Nuuanu) to our neighbor, the Hawaii Baptist Academy. The decision was made because HBA has the in-house capacity to better care for the historically registered home and can now welcome more students to its campus."
The move to Ala Moana Hotel includes a retail shop in the lobby and business office on the second floor near the parking lot bridge that connects the shopping center and hotel.
"With all the incredible changes going on in the Girl Scout Movement, the Girls Scouts of Hawaii wants to be situated where local families regularly frequent," Hannemann says. "An accessible location allows us to better serve the girls and volunteers who are actively involved in Girl Scouting as well as broaden our reach so we can further our mission."
On Saturday, the organization will present "Priceless" awards to Girl Scouts who sold 700-plus boxes of cookies. These top performers join an elite rank of 78 others who have achieved the same level. There are 34 scouts in the Hall of Fame who sold 1,000-plus boxes, of which 11 exceeded 2,000 boxes.
(Sales recruiters, are you taking note of these achievers?)
Each year, Islanders gobble up a quarter-million boxes of cookies, according to Reyna Kaneko, Girl Scouts director of product and retail sales. Kaneko orchestrates the statewide cookie campaign and distribution.
It is a colossal undertaking of parents and volunteers joining forces with their daughters to unpack
Page 1 of 2 pages for this story 1 2 >
Most Recent Comment(s):