Women Who make us say Wow!
Debbie Berger, Nancy Pace and Pam Omidyar are being honored for their truly amazing accomplishments

Wednesday - December 08, 2010
By
.(JavaScript must be enabled to view this email address)
E-mail this story | Print this page | Archive | RSS
|

Del.icio.us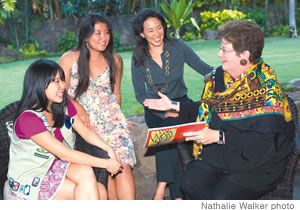 Debbie Berger (third from left) and Nancy Pace (far right) are being honored by the Girl Scouts at their Women of Distinction dinner Dec. 8. They're talking here with (from left) Scouts Melinda Sue Chinen and Cristin Lim
I will do my best to be honest and fair, friendly and helpful, considerate and caring, courageous and strong ... and to ... make the world a better place -The Girl Scout Law
It's no coincidence that the Girl Scout Law seems to perfectly describe three ladies being honored today (Dec. 8) in a gala ceremony and dinner at the Hilton Hawaiian Village. The honorees - Debbie Berger, Nancy Pace and Pam Omidyar - will share the evening's spotlight as the Girl Scouts' 2010 Woman of Distinction.
The annual dinner is a way to celebrate and perpetuate some of the Girl Scouts' key issues.
"One of the things we've been focusing on for the last couple of years is to have girls think about having a bigger impact than just in their communities," explains Girl Scout CEO Gail Hannemann. "We have a day in which we ask girls to think about girls in other places in the world. Now we're saying you can go beyond just thinking and do things that impact globally."
This year's dinner recognizes women who do just that.
All three women have graduate degrees, with Berger having studied law in London, and Omidyar earning a B.S. from Tufts University and a master's degree in molecular genetics at University of California at Santa Cruz. Pace has a B.A. from Vassar College, an M.S. in public health from Harvard and an M.D.
The ladies also have families and careers, and they're dedicated philanthropists. Berger's career with JP Morgan took her to places such as New York, Tokyo and London, and her work in the field of law introduced her to the nonprofit world. Subsequently, she founded Unbound Philanthropy in New York, and in 2007 she founded the Learning Coalition (TLC) here in Hawaii, an organization devoted to helping public schools prosper.
Pace is on a number of diverse boards both local and international, including the Boys and Girls Club of Hawaii, Salvation Army, American Cancer Society and Global Hope Network. She also is the 2011-12 president-elect of the Rotary Club of Honolulu.
Omidyar is founder and chairwoman of the board of Humanity United (2005), and the founder and chairwoman of HopeLab (2001), which aims at helping youths with chronic illness through scientific research. With husband Pierre, the eBay founder, she co-founded Omidyar Network, a philanthropic investment company.
These women are rays of sunshine for the world's underserved, helping them in practical, hands-on ways to improve their health, education and lot in life. Insight into their life's journeys and their world views, as well as advice they'd like to share, is best heard in their own words.
What inspired your philanthropic path?
Berger: I was at JP Morgan for a long time and I was not feeling fulfilled. What really drives me is inequality, and education is probably the biggest equalizing lever.
Pace: My passion has always been developing countries. When I was very young, my hero was Albert Schweitzer (a renowned medical missionary and Nobel Prize-winner who established a hospital in Africa in the early 1900s). Even as a young girl I wanted to be a doctor in the field of public health. I feel fortunate that I'm able to combine my medical skills, my public health skills and nonprofit expertise to effect change in developing countries - Thailand, Cambodia, Nigeria, Ethiopia, Kenya.
Omidyar: When I was in high school, I wanted to cure cancer. It was when I was older, working in a lab and studying cancer cells - and then playing video games at home - that I had the idea for a video game that would blast away cancer cells. This idea eventually became the video game Re-Mission, which we later created an entire organization around - HopeLab.
Where do you find the time for all that you do?
Page 1 of 2 pages for this story 1 2 >
Most Recent Comment(s):