Tradition!
With the ladies who do the baking for the annual Greek Festival getting older, the 30th at McCoy Pavilion Aug. 28-29 could be the last

Wednesday - August 11, 2010
By
.(JavaScript must be enabled to view this email address)
E-mail this story | Print this page | Archive | RSS
|

Del.icio.us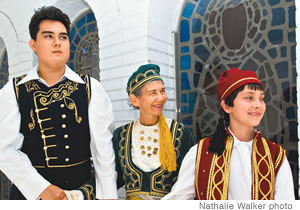 Lucian Saikevych, Dianna Graves and Nicholas Tortora, along with other members of Saints Constantine and Helen Greek Orthodox church, prepare for the 30th - and possibly final - Greek Festival at McCoy Pavilion Aug. 28-29
With the ladies who do the baking for the annual Greek Festival getting older, the 30th at McCoy Pavilion Aug. 28-29 could be the last
One way to know that it's time for the 30th annual Greek Festival is to follow your nose. The wonderful baking aroma emanating from the kitchens of the Saints Constantine and Helen Greek Orthodox Cathedral of the Pacific at 930 Lunalilo St. in Makiki is a sure sign that Greek culture and tradition are alive and well in Honolulu.
What started out years ago as a small-scale ladies' bake sale at Thomas Square has grown into a mass production of fabulous Greek desserts and sweets that are major attractions at the two day Greek Festival, set for Saturday and Sunday, Aug. 28 and 29, noon to 9 p.m. at Ala Moana Park's McCoy Pavilion. Admission is $3 (free for active military).
Customers line up at the crack of dawn to beat the crowd to the pastry booth for homemade baklava, kourambiedes, melomakarona and more.
From delicate and fragile to crunchy and chewy, Greek confections are made with an abundance of honey, nuts, fruits and creams.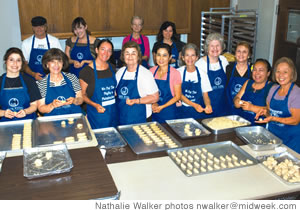 The cookie-baking crew: (front, from left) Anita Soileau, Harriet Medes, Frances Rizzo, Dina Giannakopoulos, Sooka Mann, Dianna Graves, Mary Book, Alexandra Shiroma, Isik Armstrong, Joy Bush (back) Barry Graves, Erica Zoe Reyes, Suzanne Akiona and Victoria Shiroma
Baked treasures come from family recipes passed on from one generation to another. Mothers and grandmothers put their special touches into each mixture, giving the Greek Festival products a unique quality that no commercial baker can duplicate.
"It's a vanishing art," say Vicki Shiroma and Suzanne Akiona, who co-chairs the baked goods committee.
They, along with retired Ruth Erhorn and 12 to 15 dedicated volunteers, have been stalwarts of maintaining the Greek baking traditions.
Dough is rolled the old-fashioned way, with broomstick rolling pins, and each cookie is filled and mixed manually. When older ladies are unable to do manual tasks they become official tasters to make sure each confection is held to a high standard.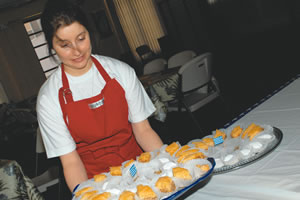 Anita Soileau offers plates of pastries such as baklava, kourambiedes, melomakarona and koulourakia
"It's a labor of love," Shiroma says. "It's an important part of our church fundraising efforts and it helps support community outreach. We have both Greek and non-Greek volunteers involved in all facets of the festival.
"But as the church's baking ladies get older - some in their 70s and 80s - and fewer in number, there is a concern about how long the tradition can be continued," she laments.
The labor-intensive process of making cookies, custards and desserts begins many months before the festival.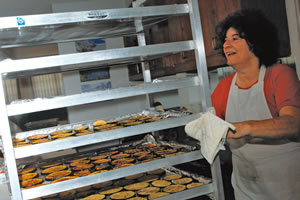 Regina Mass bakes up some eggplant for moussaka
Thus there is a concern that the festival has outgrown the manpower (and womanpower) it takes to sustain it on a large scale. Exhausted parishioners each year declare, "Never again."
They've been saying that for three decades.
Well, a landmark Honolulu event like this deserves a rallying call. So we're giving it a twist of our own with the Top 10 Reasons to Go Greek.
10) You can yell "Opa!" in a crowded park and not
Page 1 of 2 pages for this story 1 2 >
Most Recent Comment(s):