Hawaiian Chief
New HPD Chief Louis Kealoha brings traditional native Hawaiian values to running one of the largest police departments in the U.S. It's just one reason he's so well respected by the rank and file

Wednesday - May 19, 2010
By
.(JavaScript must be enabled to view this email address)
E-mail this story | Print this page | Archive | RSS
|

Del.icio.us

He holds two graduate degrees, but more than anything, says Honolulu's new police chief, his management style is based on Hawaiian values
There is aloha in the Honolulu Police Department's motto: "Serving and Protecting with Aloha." There is aloha in the spirit of the staff and police officers we meet. There's even aloha in the police chief's name.
But does aloha have a place in police work and what has been described as the "toughest, dirtiest job in town"?
"Absolutely," says HPD Chief Louis M. Kealoha, Ed.D., Honolulu's 10th chief of police, who considers aloha one of the pillars of his administration and community policing.
It is one of the values of his management approach, given the acronym of MAP: Mahalo, Aloha and Pono.
"Mahalo is having appreciation for what you do. Aloha is the quality of work or how one works. Pono is balance and making it right through both physical and moral courage," Kealoha explains.
Just six months in his new rank, the chief of police is a personification of aloha as he greets us in his conference room. A huge Hawaiian quilt with a police badge motif hangs on the wall. Chief Kealoha settles into a black ergonomic office chair that's slightly elevated from his visitors.
There's no question who's in charge here. But Kealoha's demeanor is more collegial than authoritarian.
"I'm not a tough guy," says the chief who is casually known as Louie.
We had been told that the new police chief is a respected leader who has the support of the rank and file. He was the unanimous choice of the Honolulu Police Commission to lead one of the largest city departments, employing 2,100 police officers and 550 support staff.
"It's an important role, like being CEO of a large organization," Kealoha says. "But I'm comfortable here; it's like my second home. I grew up in the police department."
Starting at age 22, Kealoha was as a patrol officer and later served in narcotics, internal affairs and training divisions. Most recently he was executive officer for the Juvenile Services Division. His younger brother is an HPD detective.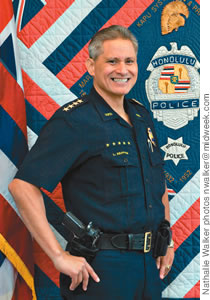 Louis Kealoha, Honolulu's 10th chief since 1932
Kealoha is the fourth captain in HPD history to bypass the ranks of major and assistant chief on the way to being named chief. The 49-year-old also is one of the youngest chiefs to hold that office.
But wisdom and leadership evidently are not defined by one's age. Experience and intellect with the ability to collaborate effectively are valued attributes, according to his colleagues.
The Damien School grad (class of '78) has been on a fast track since taking the oath of office as police chief on Nov. 20, 2009. His five-year strategic plan calls for reorganizing the department for efficiency, improving officer morale and strengthening community outreach.
"My leadership style is to be open, approachable and friendly," he says.
Along with realigning departments, the police chief has created an APEC Planning Group for the Asia-Pacific Economic Cooperation world leaders' conference to take place in Honolulu next year.
"It's going to be massive and expensive," Kealoha says. "Preliminary estimates put the security budget at over $20 million. This will put us on the global stage. People will be watching us."
Three years ago, Australia's APEC security bill for a weeklong summit was $170 million, making it more expensive than the cost of security for the 2000 Olympics.
Kealoha acknowledges that the field of law enforcement is more challenging than ever, especially with terrorism as a global threat.
"Nothing happens in isolation anymore," he asserts.
But whether it's operating on a local scale or in a global network, Kealoha says his style is to build partnerships and to be a collaborative cop.
Chief Kealoha (in lei) leads about 300 HPD officers from headquarters to the State Capitol last Monday to honor officers who gave their lives in the line of duty
"My personality is to develop relationships with the community and neighborhoods. I want to raise the profile of our department and get broad support, especially during this time of budget shortfalls," he says.
"I'm speaking to many groups that police chiefs traditionally have not addressed. Last week, I was on Ford Island talking to 200 Pearl Harbor sailors and civilians about leadership. Tonight, I'm addressing the Association of Social Sciences," he says, scanning his engagements.
During National Police Week May 9-15, the chief was at official functions daily, including a candlelight memorial service for fallen officers in the line of duty. He solemnly led a parade of officers and survivor family members from HPD headquarters on South Beretania Street to the State Capitol for the ceremony.
Asked how his first six months as chief are, he replies, "Really, really busy. It's very challenging, but fun. The hours are long and the learning curve is steep."
The learning curve is a familiar journey for Kealoha, a man who wears education on his sleeve like a badge of honor. His persistent academic pursuits to complement police training are legendary.
Kalihi-born Kealoha, one of four sons born to Louis K.K. and Beatrice Kealoha, struggled through school as a youth. His late father was a body-and-fender man with a sixth-grade education. His mother graduated from St. Francis, studied business at a California college and was a bookkeeper for many years.
But their son was more interested in surfing than studying. His mother enrolled him in private schools - Cathedral and Damien - "mostly for the discipline."
After high school, he went to FBI training in Washington, D.C., followed by enrollment at Leeward Community College, but he dropped out.
After joining HPD in 1983, he went back to school. It took 15 years to get a four-year degree from Wayland Baptist University and five years to earn a master's in criminal justice administration from Chaminade University. He has a doctorate in education from the University of Southern California.
"I'm a die-hard USC fan," he admits while his UH Warrior fan-visitors grimace.
Kealoha's advanced degrees have given him a renewed perspective of crime and criminal behav-
Page 1 of 2 pages for this story 1 2 >
Most Recent Comment(s):