Animation Sensation
Introducing - for those of you who don't have young kids or grandkids - Bob the Tomato and Larry the Cucumber, stars of Veggie Tales.

Wednesday - March 17, 2010
By
.(JavaScript must be enabled to view this email address)
E-mail this story | Print this page | Archive | RSS
|

Del.icio.us

We can be our own worst enemy when it comes to economic development. A big barrier, entrepreneurs say, is having a myopic view.
Bah, humbug, you might say. Forget this useless banter. You're just trying to make a buck and survive today. Fair enough, but for a moment, we want to take you into a realm of possibility for Hawaii. It's a future not centered on the service sector (forgive us, our tourism friends) but one that brings Hawaii into the global market by simply turning on a computer. Best of all, the foundations of this industry and its promise for our future are already established in the community.
It's the film animation business.
Proponents say we are overlooking a huge potential for creating jobs and attracting new investment to the Islands. Globally, animation is one of the fastest-growing industries and worth hundreds of billions of dollars in output production value.
In Hawaii, it is one of our best-kept secrets. But if the state's Creative Industries division of DBEDT has anything to say about, it will no longer be a whisper in back rooms - especially when we're desperately looking for new sources of revenue for long-term growth.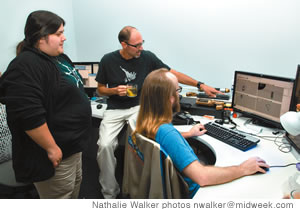 Animation modelers Amanda Fujita and Billy Burson III (seated) work on this week's 'MidWeek' cover featuring 'Veggie Tales' characters with supervisor Remington Scott
In the midst of wallowing over hotel revenue being down, our favorite restaurants closing and Furlough Fridays becoming a norm, an enterprise known as Hawaii Animation Studios opened its doors last month at 1132 Bishop St.
In its first month the company hired 30 animators, right out of local schools, and plans to grow to 150 employees as it expands.
When was the last time you heard of a company planning to hire 150 local people with permanent jobs that are not in the service sector?
Hawaii Animation Studios (HAS) is a state-ofthe-art computer graphics production company for the film and entertainment industry. It was established by a Toronto-based firm known as Entrenched Inc. that designs and produces animation and visual effects for films, video, DVDs.
Entrenched's credits include impressive projects such as Nine, The Pirates Who Don't Do Anything, A Veggie Tales Movie, Everyone's Hero, IMAX 3D Spacestation, Nascar 3D, Cyberworld, Game Over and X-Men.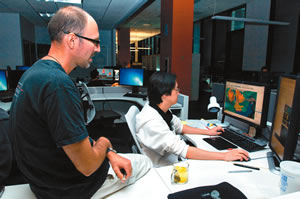 Supervisor Remington Scott works with modeler Jared Matsushige on where 'Veggie Tales' characters live
It's a fascinating world of imagination, visualization, collaboration and wizardry. It's the artistic realm of imagineers like Disney, DreamWorks and those amazing folks who created Avatar.
In the business, animation is referred to as CGI, computer generated imagery. The physical production of animation is a time-consuming and labor-intensive process involving the creation of thousands of images, backgrounds and objects. Technology and clever software have revolutionized the field.
That's the creative process that takes place at Hawaii Animation Studios. Think Pixar of the Pacific.
Animation - adding motion to a picture - used to mean cartoons for kids. Today it is a mega-industry producing entertainment and games avariciously sought by both kids and adults. In fact, according to Internet Industry Research Center, animation is one of the pillar industries of the U.S.
Japan's animation industry ranks sixth in its national economy. The output value of its animation products exceeds that of steel. Europe and South Korea also are major players in animation.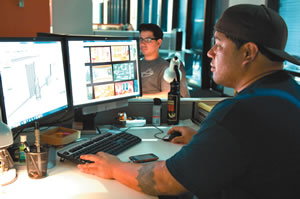 Modeler Mark Susuico works on a 'Veggie Tales' episode
But the U.S. is the leader of the global animation industry. Therein is the opportunity for Hawaii, which has always had a love affair with Hollywood, the film industry and the great minds that create award-winning work.
That affinity for Hawaii and the lure of the state's Act 221 tax credits for high-tech companies brought HAS president-CEO Dan Krech of Canada to our shores two years ago.
"We expected the mentality in Hawaii to be very tourist-oriented," Krech says, "but it's a misconception that people here are more interested in going to the beach than going to work.
"Our plan is to create intellectual property and do feature film work in Hawaii," adds Krech, one of four HAS partners. "The majority of the work can be done here at less cost than doing it in a high-priced market like Los Angeles. As long as we can get quality work done at a good price, we can be competitive with the rest of the world."
While some say Hawaii is in the middle of nowhere, Krech retorts, "Hawaii is in the middle of everywhere - 80 percent of the world's population exists in the Pacific Rim. Data for digital infrastructure goes through Hawaii. That was a big factor for us. Our means of transportation and communications are now digital. It's a different world.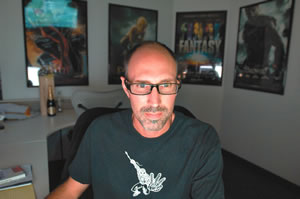 Remington Scott at work animating
"Hawaii is geographically located in the sweet spot. We're very excited to be here and look forward to a long-term future in Hawaii. We are already working with Big Idea Entertainment, the leading faith-based studio and producer of children's and family programming, characters and brands, on an allnew multi-production deal."
Since 1993, Big Idea's best-selling animated series, Veggie Tales, has sold more than 53 million videos, 13 million books and 7 million CDs. (See Veggie Tales main characters on the MidWeek cover).
HAS also is working on a Discovery Channel special about dinosaurs, and on an IMAX Space production. A major full-length animated film for Weinstein Studios is expected to be announced any day.
HAS might be new in the Isles, but it has some veteran, very experienced players. Krech's partners are chief technology officer Jeff Bell, director of human resources Joe Serafini, and director of marketing John Morch.
The studio also has attracted high-level, sought-after talent, including CG
Page 1 of 2 pages for this story 1 2 >
Most Recent Comment(s):