HIFF Hooray!
The first Hawaii Film Festival offered seven films at the old Varsity Theater. The 30th features 214 films from 40 countries, says director Chuck Boller
Wednesday - October 13, 2010
By Chad Pata
E-mail this story | Print this page | Archive | RSS
|

Del.icio.us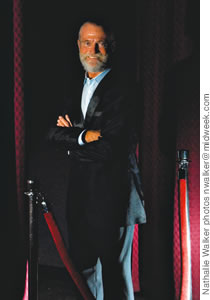 Chuck Boller has been with HIFF for 20 years of growth
It's October, and on Oahu that can only mean two things: a short break from the ubiquitous political sign-wavers that dot the sides of our roads, and the Hawaii International Film Festival is back.
Celebrating its 30th anniversary here in the Islands, HIFF has grown from a seven-movie blip screened at the old Varsity Theater to the largest Asian film festival in the United States.
"It started out with the East-West Center as one of their outreach projects," remembers Chuck Boller, executive director of HIFF. "Their mission statement is to promote and encourage cultural understanding, so ours was to do that through film. This year we are also trying to emphasize that we have films that are not Asian or Pacific. We have 214 films from 40 countries."
As part of that outreach, it has included a second festival within the festival by bringing recently formed EuroCinema Hawaii into the HIFF fold. It is premiering eight films, two of which are the most anticipated films of the festival: The Girl Who Kicked the Hornet's Nest, which is the conclusion of the highly acclaimed trilogy by Stieg Larsson, and The Leopard, the 1963 Visconti masterpiece that has been restored by Martin Scorsese.
The festival also includes 10 world premieres, 15 international premieres, 35 U.S. premieres and 133 Hawaii premieres.
Opening night will feature Under the Hawthorn Tree by HIFF favorite Yimou Zhang. He first visited Hawaii in 1984 as a young cinematographer with the film Yellow Earth, returning several times, most notably in 2005 to receive the HIFF Lifetime Achievement Award.
In this film he strips away much of the color and dazzling costumes that have filled his films - you may remember him best for The House of Flying Daggers or his stunning direction of the opening ceremonies of the Beijing Olympics - and tells a star-crossed love story set against the Cultural Revolution.
HIFF's close relationship with China has been fostered under Boller's direction, leading to a nine-year partnership with the Shanghai International Film Festival and its parent organization the Shanghai Media and Entertainment Group.
This relationship has opened doors for local banks to receive entry into the Chinese market and has even given Gov. Linda Lingle the opportunity to walk the red carpet at the Chinese version of the Academy Awards.
"The governor afterwards told the interviewer what an incredible experience it was," says Boller, who has been working with HIFF for the past 20 years. "She asked the interviewer how many people just saw them and he said, '600 million.' You just can't beat that kind of exposure."
The culmination of this partnership will be held at Washington Place, where the festival will celebrate "China Night" with the governor. The Chinese delegation is bringing in authentic Chinese garb for the servers to wear, Chinese wine to drink and kites to hang from the ceiling.
It is at this celebration that Boller expects to have them sign a new two-year agreement between the two festivals, assuring the growth and success of both.
"The board of directors will ask, 'Why do we have to be this big international film festival? Why can't we just be a nice little local event?'" says Boller, whose festival runs Oct. 14 -24. "I tell them that it is because people out here are very sophisticated when it comes to films. We are a very international place, and the public will often follow films from their home countries or countries they are interested in."
One area of interest for all Americans these days is Iran, and in hopes of fostering more understanding about its people, the Roshan Cultural Heritage Institute is sponsoring Persian Lens, a four-film set giving a rare look into life in this country that is so foreign to so many in the U.S.
But the festival is not all about international relations. Four local films made the grade, including the farcical romp Get a Job starring Willie K and Eric Gilliom as an oversized banana, and Chuck Mitsui's One Kine Day, which chronicles a day in the life of a slacking teenage skater.
In the film, Mitsui tries to capture the darker side of paradise as its protagonist Ralsto is forced to deal with issues beyond where to go skate today - namely, what to do when his girlfriend discovers she is pregnant. Crafted on a budget of just $1 million, it gives a glimpse at a side of Hawaii rarely shown on film, and is soundtracked by local artists Fiji, Na Wai and J-Boog.
The festival also is proud to be screening the premiere of One Voice, where filmmakers spent an entire year with the students of Kamehameha Schools as they prepared for the annual song contest. It culminates with the March 2008 contest that celebrated the revitalization of the Hawaiian language. (See Hot Ticket, page 62, for a review by Robert Cazimero.)
Also helping to bolster the local artistic community is Sound X Vision, a festival featuring local music videos and a panel of industry professionals from Hollywood, to be held at NextDoor. Here they will have a version of speed dating, where 10 local artists will each get 10 minutes with the professionals to show what they have and ask advice on how they should move forward.
The guest of honor this year is Roger Ebert, who was last here in 2005 before thyroid cancer took his lower jaw and voice. Having successfully beaten the disease, he is happy to return to one of his favorite film festivals.
"He has always had a very special spot in his heart for this festival," says Boller, who took over as director in 2000. "Last time he was here, in 2005,
Page 1 of 2 pages for this story 1 2 >
Most Recent Comment(s):