HOT's Dynamic Duo
One of America's best opera companies survives in tough times because of smart management from its directors, Henry Akina and Karen Tiller
Wednesday - February 16, 2011
By Chad Pata
E-mail this story | Print this page | Archive | RSS
|

Del.icio.us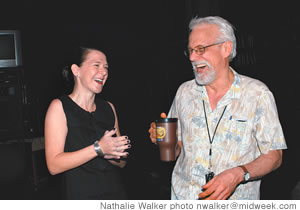 Karen Tiller and lighting designer Peter Dean Beck share a laugh backstage
There are some jobs in this world where there can only be one leader: boat captain, NFL quarterback and a theatrical director.
These positions require such a singleness of vision and attract such A-type personalities that there is only room for one, or else they tear each other apart.
Yet such thoughts are being turned on their ear by the success of Henry Akina and Karen Tiller as co-directors of Hawaii Opera Theatre.
"I can talk to her like a colleague, which is rare in this business," says Akina, who has served as the general and artistic director of HOT dating back to 1996. "Opera is a small business, and not all colleagues see eye-to-eye on the way things should be done. I don't know of any other company run by two directors - one of the great things about us is we can talk about directing. Directors generally don't like each other at all - at all!"
Tiller came to HOT in 2003, first as a guest director, but then the board saw her potential and offered her the position as executive director.
"At the time Karen was hired, we had just been through 10 months with another colleague who was a pure business guy, and that just didn't work," says Akina, who spent his first 20 years in the business in Berlin. "The board was primed to hire someone who would embrace the company, and Karen just fit right in."
The two serve as perfect counterpoints to one another.
On one side is Akina, a flamboyant local boy, the Punahou grad who grew up attending HOT concerts. His laughter fills any room he's in, and his passion for his art infects all who meet him.
On the other side is Tiller, a soft-spoken Southern girl from a rural coal-mining town in Virginia. A theater major at William & Mary, she had studied voice work but had never considered opera until she got a job offer with the Virginia Opera.
"It was a real revelation to me. Opera did all the things I was interested in: It was drama and music," says Tiller.
Despite her serene nature, she is fierce in her devotion to her craft, and it's her dedication to keeping HOT on budget that has helped it to thrive while many artistic groups, such as the symphony, have failed.
"We have had a continuity not just at the staff level but at the board level, and as a portion of our mission from the moment we separated from the symphony we have had fiscal responsibility written into our mission statement," says Tiller. "The balancing act of what we want to do artistically with what we can afford, we always keep our eye on the business side. You don't have great art if you don't have the money to support it and vice versa."
This has caused the company to make tough choices in recent years. They have done a hiring freeze despite a mounting workload, all staff have had to eschew raises, and finally they had to find a way to get directors for the operas on the cheap.
Of course, the last part was easy, as Akina and Tiller have taken on the task of directing all three productions this year, with Tiller directing Lucia di Lammermoor and Akina taking on Faust and La Traviata.
"As an arts organization we are already lean by design, and in the past few years we have made some hard choices. No one has gotten a raise, but no one has gotten laid off either," says Tiller, who is the numbers cruncher of the pair. "We decided we were going to focus on our primary mission, which is presenting opera and our education outreach programs."
It is their presentation that has kept the houses full for them. While most operas have a voice-forward philosophy, HOT prefers to take a much more dramatic lean.
"We place a very high value on the theatrical elements; we are not your grandpa's opera company," says Akina. "We cast people that look like the role, that don't just sound like
Page 1 of 2 pages for this story 1 2 >
Most Recent Comment(s):