Honolulu: Opera Hotbed
International stars will again grace the Hawaii Opera Theatre stage this season, but more local singers are taking on larger roles, including (from left) Leon Williams, Kristin Stone, Blythe, Quinn and Debbie Kelsey, and Buz Tennent. And in major news, this is the last 'opera season' as HOT goes year-round

Wednesday - January 25, 2012
By
.(JavaScript must be enabled to view this email address)
E-mail this story | Print this page | Archive | RSS
|

Del.icio.us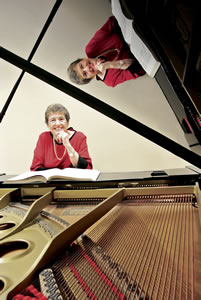 Neva Rego and her reflection
With the winter opera season at hand Aida, Don Pasquale, The Pearl Fishers - masters of the art arrive on our shores from the Mainland and abroad. But some of those you'll see and hear just happen to be homegrown. A huge local base makes up the rest of the cast from lead roles, to comprimario or supporting roles, to the chorus.
Despite striking it big at the top opera houses in the world, singers such as Hawaii Opera Theater golden boy Quinn Kelsey, still make the time to perform at home.
"I think everyone who grew up in Hawaii has a great relationship with the community," says HOT artistic director Henry Akina, who is directing Aida. "Quinn certainly has been nurtured by many people at the company. His mother still sings in the chorus; we also have his sister in the opera studio currently. There's a bond."
Jewels in Kelsey's resume include his 2008 debut with the Metropolitan Opera in La Boheme, which was broadcast live on HD, and his debut last year as Rigoletto in Norway, a role he describes as "one of the more prominent roles, if not the most prominent role, in the Verdi baritone repertoire."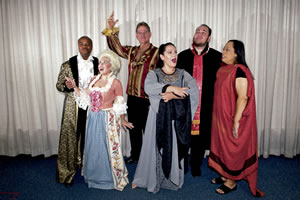 Leon Williams, Kristin Stone, Buz Tennent, and Blythe, Quinn and Debbie Kelsey. Nathalie Walker photos

.(JavaScript must be enabled to view this email address)
The baritone is taking advantage of a chink in his schedule performing in Il Trovatore in Dresden to join the cast of Aida. The Dresden run marks a special moment in Kelsey's career, as it's the first time he and his wife (Marjorie Owens) have sung onstage together. Aida is also a milestone, taking Kelsey full circle: "It all started at home at HOT. I was singing for the chorus in Aida in 1991 and it's kind of poignant that I'm coming back to do Aida."
Mom Debbie and younger sister Blythe also will appear in Aida. Blythe chuckles as she recalls, "I wanted to be an opera singer even before my brother did, but he's a boy so that helps and I also took some years off from singing." Realizing opera is definitely her calling, Blythe is back strong. Generally in the chorus, Aida will be her first comprimario role.
Debbie, meanwhile, is a mainstay with the chorus. Dad (Christopher) being a singer too, the whole family appeared together with HOT in 1996. Mom and
Page 1 of 2 pages for this story 1 2 >
Most Recent Comment(s):