Honolulu: Opera Hotbed
International stars will again grace the Hawaii Opera Theatre stage this season, but more local singers are taking on larger roles, including (from left) Leon Williams, Kristin Stone, Blythe, Quinn and Debbie Kelsey, and Buz Tennent. And in major news, this is the last 'opera season' as HOT goes year-round

Wednesday - January 25, 2012
By
.(JavaScript must be enabled to view this email address)
E-mail this story | Print this page | Archive | RSS
|

Del.icio.us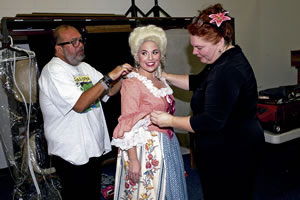 Hair and makeup designer assistant David Kasper and hair and makeup designer Sue Sittko-Schaefer prep Kristin Stone
Dad met at UH when Debbie was studying voice and the two had a duet. Debbie's total immersion in music, whether performing, teaching or singing at home, naturally carried over to both her children.
"I'm so proud of them; they know how to express themselves through music," she says. "It's just wonderful to watch them onstage I cry every time I see them perform."
If our next local talent were a superhero, he would be The Voice. His tall stature and rumbling baritone landed Leslie "Buz" Tennent in a speaking role in episode 2 of the current season of Hawaii Five-0 as "intimidating large man," playing a cult leader. But that was a departure from his musical background, singing in New York, Santa Fe, Alaska, Ontario, Spain, Poland, Austria and more, including a 12-year stint in Germany.
So, how hard is it to learn a whole new language or languages and sing in Italian, German, French?
"Singers have good ears and they tend to be good mimics," muses the Punahou grad. "I absorbed a lot as a student, accents and dialects. I even used to do impressions in school, which sometimes got me in hot water (laughs). Living in Europe I did become fluent in German, and I traveled a lot, so I would sort of absorb other languages, some of which I had studied in college. As they say in Germany, Sinken oder Schwimmen, sink or swim."
Though he won't be appearing onstage this season, Tennent has been performing with HOT since 1983.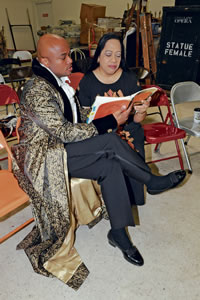 Leon Williams and Debbie Kelsey look over their music sheets
Another HOT regular and local resident, Leon Williams, however, will be onstage in Aida as the king of Egypt. "It's great to be king!" he pipes up.
Williams is a bit of a live wire, defying any stereotypical notion of an "opera person." He's all about variety, singing musical theater, inspirational music, leading worship at church, doing classical symphonic performances, oratorio, American standards, recitals ... going where the music takes him. He doesn't relate to the concept of "getting away from it all," because, in fact, he's constantly away, on the global circuit.
"I was just with a symphony orchestra recording Frederick Delius, a piece for baritone in orchestra, which is very seldom performed but a glorious piece of music for lyric baritone. And then I may do a recital where I will incorporate negro spirituals, and show tunes and American standards, and then I can get on stage and sing Verdi with a world class opera company. It's a joy to not have to be so pigeonholed and so restricted in what I do."
A highlight of his is playing the title role of Figaro with HOT. Other notable moments in his 30plus years of singing include singing at the White House and at Carnegie Hall.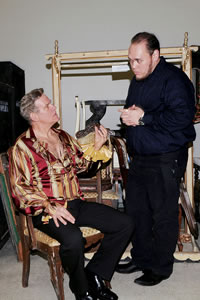 Buz Tennent and Quinn Kelsey talk story
Kristin Stone, another local resident, will perform in the Don Pasquale chorus. "The Chorus in Don Pasquale is a lot of fun, we are disgruntled servants," she says with enthusiasm. Stone is a member of HOT's Mae Z. Orvis Opera Studio.
"The Opera Studio was a dream of mine when I arrived in 1996," notes Henry Akina. "We started the studio to nurture Hawaii's talent, and we try to bring studio members together with as many wonderful professionals as we can in the course of a year. And we require people in the studio to participate in the main season either in the chorus or in comprimario roles. (Quinn Kesley is the parade example. He was in the first class of the Opera Studio and has gone on to make a major world career, and is now re-nurturing others.)"
Stone moved to Hawaii from New York five years ago with the aspiration of joining the studio. She's also HOT's education coordinator, going into schools and getting the students excited about opera.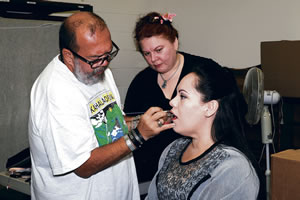 Hair and makeup designer assistant David Kasper and hair and makeup designer Sue Sittko-Schaefer apply last-minute touches to Blythe Kelsey Nathalie Walker photos

.(JavaScript must be enabled to view this email address)
"Our education projects vary," she says, describing some mind-blowing accomplishments with Hawaii's students.
"I directed The Mikado recently at a middle school. It was an intensive summer school program. We were there four hours a day and we put on an opera with 18 seventhand eighthgraders in just three-and-a-half weeks!"
Also nurturing local talent since 1983 after an illustrious career abroad, including 25 years in Italy, is Neva Rego. Kaimuki born and raised, Rego has taught numerous top local artists from the likes of Brothers Cazimero and Makaha Sons to a string of Miss Hawaiis and a couple Miss Americas.
She describes the difference between musical training and opera training: "Opera training is a longer business. Most students want to sing pop music and you can get them going in two to twoand-a-half years, but with opera you need a good seven years if you want technique."
To keep up that highly trained operatic voice is a daily, lifelong commitment. "I think it was (Anton) Rubinstein (composer, conductor and pianist) who said when he didn't study for a day he knew it, and when he didn't study for two days, the audience knew it. It's the same for singers."
Rego lights up as she mentions the season launch with Aida. "It's a glorious opera. I'm so thrilled we have beautiful singers and we have a beautiful orchestra. Hawaii opera is doing well!"
Aida is on stage at Blaisdell Concert Hall Jan. 27, 29, 31; Don Pasquale runs Feb. 10, 12, 14; and The Pearl Fishers is Feb. 24, 26, 28. For tickets call 596-7858 or visit hawaiiopera.org for more information.
SAY GOODBYE TO 'OPERA SEASON'
Hawaii Opera Theatre's 60-member board realized two years ago that though too much of a good thing is great, spreading it out into bite-sized doses might be even better.
"Right now we have a winter opera season of three operas in a six-week timeframe," says HOT executive director Karen Tiller. "There's one week, we call it the dreaded three-opera week, where the first show is in its final performances, the second show is getting ready to go into the theater and the third show's artists are arriving. It's one week where all three casts are on-island at one point in time; the logistics of that is huge.
"Starting this year, we're moving toward a fall-winter-spring schedule, which will allow us to leave a year-round footprint in the community. The idea of being able to focus on one show at one moment in time is exciting."
The new schedule begins with an opera in October, then one in February 2013, followed by an April production.
"Until now, if you're traveling in the winter, well, you miss our season," adds Tiller. "Focusing on one production at a time will be a huge benefit because we'll be able to talk very specifically about each show and we'll have the flexibility of adding events around each of the operas."
Cluing in the audience on what to expect this season, Tiller, who will direct The Pearl Fishers, says that despite being historically dated with the politics of a past century landing on the stage, the operas remain incredibly relevant today with their overarching issues of love and war. And her favorite night is Opera For Everyone, the final dress rehearsal which is attended by busloads of students.
"It's sort of like going to a rock concert and an opera at the same time," she laughs. "I wish every audience reacted that way. I mean, they scream, they laugh, they are completely inappropriate, it's fabulous! And the artists love it when you've got that kind of crazy feedback coming at you, it makes it happen onstage." -R.F.
Page 2 of 2 pages for this story < 1 2
Most Recent Comment(s):